Inspired by some Syrian-Canadian friends, I made a Syrian-Style Chopped Salad this weekend! This is the perfect dish to make with all the fresh produce available in summer. The primary ingredients are cucumbers, tomatoes, and fresh herbs, and it's so refreshing to eat chilled for dinner on a hot summer's day!
There is one less common ingredient: zaatar. Zaatar is an Arabic spice, and used in Middle Eastern cooking. I've used it before, as I grew up with it, and while I didn't have it in my pantry, I asked my dad to borrow (er, have) a few tablespoons worth. You can probably find it at a local bulk store in a large city, or at a speciality food store. I believe my father buys it from a Middle Eastern grocery store, but even the local discount grocery stores have 'exotic' spices in their aisles these days, so I'd suggest looking there first.
My backyard tomatoes aren't red yet, so I did have to use store-bought, but as any good foodie knows, home-grown tomatoes are THE. BEST! I did pick the parsley, mint, and radishes from my garden, though! (Am very proud of my densely grown balcony garden. The DH calls it 'Las Amazonas', so you know it's pretty intense!)
Have I made it sound appetizing enough yet? Then let's get cooking!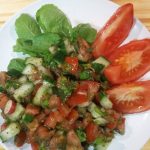 SYRIAN-STYLE CHOPPED SALAD
This is an easy, beat-the-heat dish to make from fresh garden produce! Can be adapted to add grains or protein.
Ingredients
1/2

cucumber, finely chopped

2

tomatoes, finely chopped

1/3-1/2

c.

parsley, finely chopped

1

tbsp.

fresh mint, finely chopped

(can use dried if that's what you have)

1

tbsp.

radish, sliced or diced

2

tbsp.

zaatar

(Arabic spice)

2

tbsp.

olive oil

(extra virgin)

2

tbsp.

lemon juice
Instructions
Combine all ingredients in a bowl, and stir.

Chill for half an hour or until serving. Enjoy!
Recipe Notes
You can add in couscous or bulgar to make this a heftier salad; just add in a bit more lemon juice and oil. Alternatively, you can add in feta cheese, cubed & fried tofu, or even cooked chicken for some protein. Make it your own! 
By the way, this salad is so delicious that even my meat-a-tarian DH, who usually gamely eats whatever vegetarian dish I gave him but doesn't choose vegetarian food if he has a choice, ACTUALLY ATE SECONDS OF THIS SALAD! Of his own volition! So yes, I will be making this a lot!
Although I've classified this salad as a vegetarian side dish, you could easily make it a main dish by adding in couscous or bulgar (cracked wheat), and adding in some crumbled or cubed feta cheese. And as I (the Queen of Substitutions) always encourage, make it your own by using whatever fresh produce you have in your garden or available at the local stores!
Next Post: I'm thinking the Shake n' Bake tofu that I mentioned in a previous post. So many ways to use this versatile (and UBER-delicious protein)! And I'm not generally a tofu fan, so you KNOW it must be good! 
Linking Up at Meal Plan Monday! And at Happiness is Homemade!