How did I come up with this Vegan Peach Galette? Well, I attended a potluck BBQ thrown by a friend recently, and as she is vegan, I wanted to bring something that she could eat. Also, I wanted to bake because I love baking. And sugar. And I had a bowlful of peaches in the house. And that's how my peach pie was born!
Except that I made the rustic French version of a pie, a galette. It's…wait for it…easy as pie (ba da dum!) except easier, because you don't have to worry about shaping the pie all purdy like. You just roll out that dough, slap in some filling, pull up the edges, and shove the thing in the oven. How's that for easy?
Let's make some!
Yield: 8 slices
Vegan Peach Galette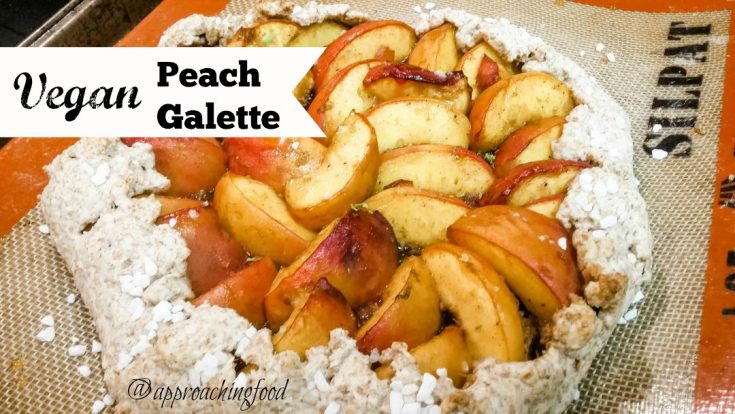 This healthy peach pie is SUPER-easy to whip together. Any any fruit will do, although peaches are especially yummy!
Total Time
1 hour
50 minutes
Ingredients
5 peaches (free-stone, because it's easier to slice for display)
1 tsp. lime zest
1/8 tsp. cinnamon
Pinch each nutmeg, cloves, and cardamom
1 tsp. cornstarch
¼ c. brown sugar
¼ c. bread crumbs
1 tbsp. large sugar crystals
Instructions
Make dough and chill in fridge for at least an hour.
Cut peaches into sixths, place in a bowl, and add cinnamon, nutmeg, cloves, cardamom, corn starch, and brown sugar. Stir until combined.
Roll out dough on a silicone liner (or wherever and then transfer to a cookie tray) into a round shape. Place silicone liner on cookie tray. Spread bread crumbs in centre of dough, leaving 2 cm bare around the edge of the circle.
Place fruit wedges in a pretty design on top of the bread crumbs. Then gently pull up edges of dough and fold in on the filling. Sprinkle the sugar crystals on the edges of the dough, and a few in the centre.
Bake in a 375 degree oven for 30 minutes or until the pie crust is golden and the filling is bubbling.
Nutrition Information:
Yield:
8
Serving Size:
1 slice
Amount Per Serving:
Calories:

198
Total Fat:

8g
Saturated Fat:

3g
Trans Fat:

0g
Unsaturated Fat:

4g
Cholesterol:

1mg
Sodium:

117mg
Carbohydrates:

31g
Fiber:

3g
Sugar:

17g
Protein:

3g
BREAD CRUMBS? HUH?: The fruit in your galette will be nice and juicy, but too juicy will mean soggy crust and a galette that falls apart or worse, doesn't bake properly. The corn starch will help thicken up the fruit juices, and make the galette less soggy. And the bread crumbs also absorb all those luscious fruit juices, preventing your galette from being a soggy mess! You won't be able to see the bread crumbs in your galette once it's baked, don't worry. Bread crumbs in pie. Who'd a thunk it?
I'm happy to say that the galette was happily received! And happily eaten, with friends. The best way to eat a pie, yes?
Next Post: Erm, I dunno. Imma gonna think on that and get back to you, 'kay?