It's a lazy weekend morning and you're feeling like brunch — wouldn't Apple Cinnamon Pancakes hit the spot? Why not skip the resto, stay in your pajamas, and mix some up yourself? But let's make sure to skip the box mix too — it's full of nasty, unpleasant preservatives that are unhealthy and can ruin the taste. I have a SUPER-EASY pancake recipe that is preservative-free, and creates fluffy apple-and-cinnamon-flecked pancakes, perfect for stacking and serving with real maple syrup!
How to make these Better-Than-Box-Mix Apple Cinnamon Pancakes? You take my Sour Milk Toaster Pancakes recipe, and add in cinnamon and a grated apple. Bam, done! Told you it was easy! I like to use a blender, just because it's easy, but you could easily mix it up in a bowl with a spoon. Just make sure to blend the ingredients, and then STIR in the grated apple, so you can still see the fruit. Unless you don't care. Then, blend away — the taste will be just as delicious!
Enough blither-blather, let's get to the pancakes!
Yield: 12
Better-Than-Box-Mix Apple Cinnamon Pancakes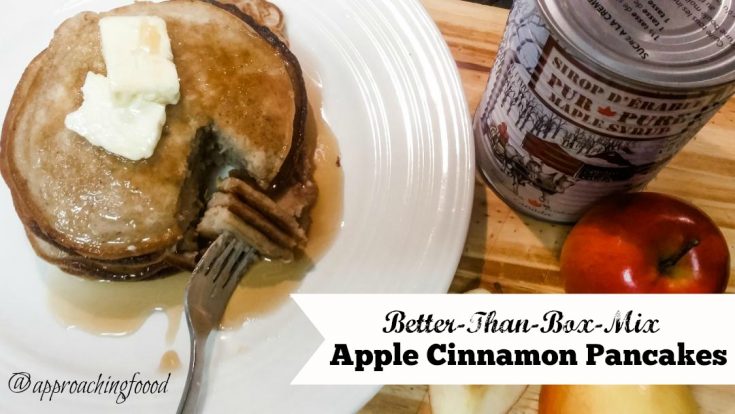 These preservative-free pancakes are mixed together in a blender, and then have grated apple stirred in, creating tender, fluffy, and fragrantly delicious stacks of yumminess!
Ingredients
1 c. milk
1 tbsp. vinegar
1 c. flour
1 1/2 tsp. baking powder
1 egg
2 tbsp. sugar
2 tbsp. oil
6 tbsp. butter
1 apple
1/2 tsp. cinnamon
Instructions
Put all ingredients except for the apple and the butter in a blender and...blend. (Or just mix it all up in a bowl! It's all good!)
Grate apple and stir into batter.
Pour batter onto a hot griddle (or frying pan), greased with 1/2 tbsp. butter per pancake. You may need to spread the batter out, as it can be thick. Fry until bubbles appear on the top, and flip to fry on the other side.
Repeat until batter is gone and stomach is full!
Nutrition Information:
Yield:
12
Serving Size:
1 pancake
Amount Per Serving:
Calories:

143
Total Fat:

9g
Saturated Fat:

4g
Trans Fat:

0g
Unsaturated Fat:

4g
Cholesterol:

32mg
Sodium:

124mg
Carbohydrates:

13g
Fiber:

1g
Sugar:

4g
Protein:

2g
By the way, if you're a long-time reader (and aren't you all? *grin*), you'll notice that I've changed the look of the blog. I'm trying to make it prettier and more user-friendly. Let me know in the comments what you think!
And, also let us know in the comments what you think of these preservative-free Better-Than-Box-Mix Apple Cinnamon Pancakes! They're very customizable. Pear & Nutmeg pancakes? Why not? Perhaps with an apricot & champagne mimosa? Mmm…brunch. So good!
Next Post: Likely my Preservative-Free White Cheddar Popcorn, aka Smartfood Copycat. Yum!