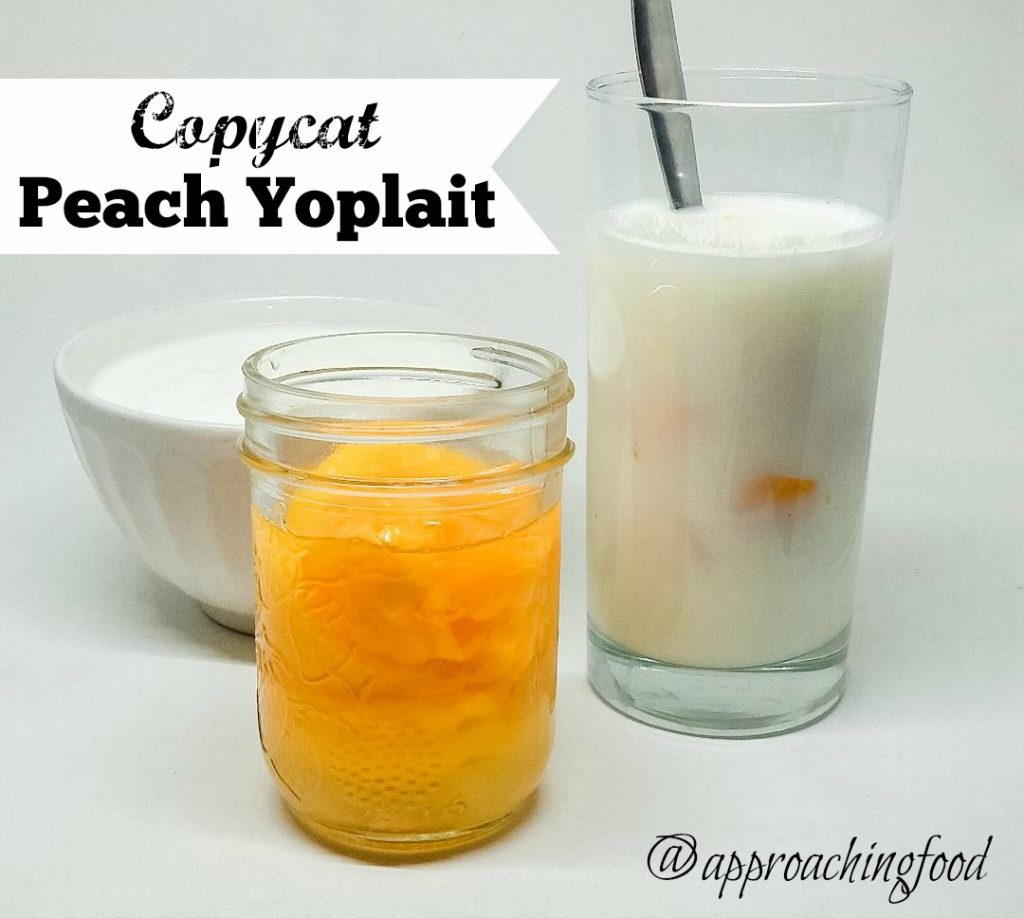 As I've written previously, I've taken to making my own yoghurt these days. And in line with my granola-making hippy-esque kitchen plans, I've also taken to canning my own fruit (at least peaches and pears). But what to do with the last of the canning syrup? And what to do with a single cup of yoghurt left? Not enough for a full meal, but a bit too much to bake with. Well…why not mix up some Copycat Peach Yoplait?
Have you ever drunk a bottle of that fruit-flavoured yoghurt drink, Yoplait? I haven't had one in years, and I also don't want to look at the ingredient list — I'm sure it has more ingredients than I care to know about. But they are delicious little bottles of drinkable yoghurt yumminess, and I thought I'd try making my own.
It's surprisingly easy to make this Copycat Peach Yoplait! I suggest using peaches that have been canned in juice, or at the very least, light syrup. If you use peaches canned in heavy syrup, the drink will definitely be delicious, but won't be as healthy. And food that is healthy(ish, at least), full of nutrients from fruit, chock-full of calcium, and verrrrry importantly, super-duper delicious…well, I'm all about that!
So let's get to making some!
Yield: 1 large serving
Copycat Peach Yoplait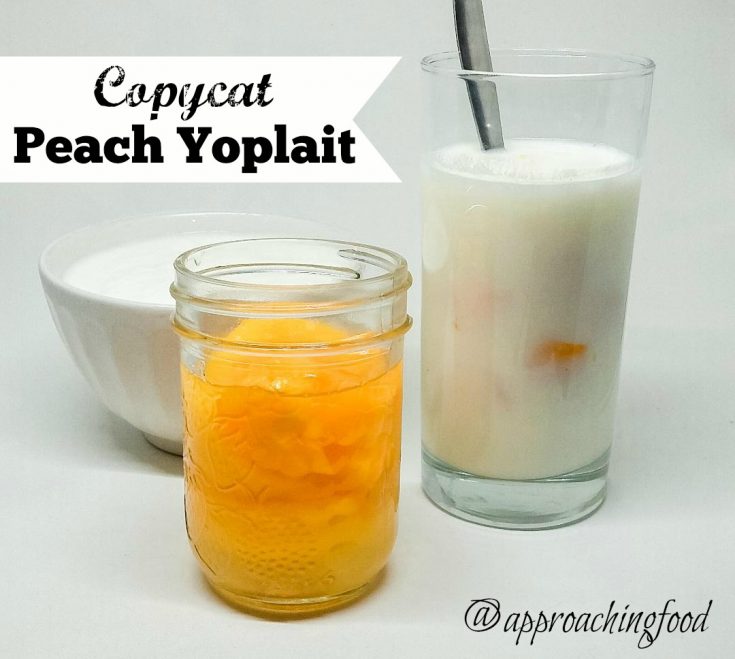 This calcium-rich and peach-flavoured yoghurt drink is suprisingly easy to whip up! Great served over ice for a refreshing drink.
Ingredients
1 cup yoghurt
1/2 cup juice or light syrup from a can of peaches
1 tbsp canned peach, finely chopped
Instructions
Mix yoghurt, juice/light syrup, and finely chopped peach together in a glass. 
Serve over ice and enjoy!
Nutrition Information:
Yield:
2
Serving Size:
3/4 c.
Amount Per Serving:
Calories:

200
Total Fat:

2g
Saturated Fat:

1g
Trans Fat:

0g
Unsaturated Fat:

1g
Cholesterol:

7mg
Sodium:

180mg
Carbohydrates:

41g
Fiber:

1g
Sugar:

35g
Protein:

7g
That's right, this drink is basically yoghurt thinned with the juice/light syrup from canned peaches, plus a few chunks of peaches. As the juice/light syrup sits with the fruit in the jar, it gains a delicious peach flavour, so when we use the juice/light syrup in the drink, it imparts all that lovely peachiness to the drink. And then adding in a few peach chunks only makes it better!
You can see why I don't recommend using peaches canned in heavy syrup in this drink! I mean you could, but I would use it as a dessert then, not so much a healthy breakfast! Mmm…dessert yoghurt. I totally want that now!
I wonder what other canned fruits I could turn into fruity yoghurt drinks? Mandarins? Pears? Apricots? Oooh, I think the apricot one would be great! If you make this, let me know what fruit you used!
Next Post: Not sure yet, to be honest. I'm still recovering from a few weeks of illness and my stomach is wibbly-wobbly so I haven't been dreaming of new recipes like I usually do. So, we'll see what the week brings!