This summer I have been all about the cold drinks. It's been steamy hot where I live, and I tend to wilt in the humid heat. If I step outside and my sunglasses fog up in seconds, that's too humid for me! I like a nice dry heat. So, in order to beat the heat or at least exist with it, I tend to walk around carrying lots of bottles of cold ice water, eat a yummy green smoothie for dinner to cool down, and if I'm still overheated in the evening, this week's recipe for a Creamy Vanilla Pineapple Float sure hits the spot!
This recipe is modified from one that my mother used to make when I was a child. And as a ice-cream based dessert float goes, it's pretty healthy! Pineapple juice and powdered milk form most of the base of the float, so you're getting lots of vitamins and calcium, and then it's topped with a scoop of ice cream, the least healthiest but super delicious part.
I asked my mother where she got the original recipe from, and she actually doesn't remember, but thinks it may have been from a magazine ad or so. I'm part of the generation that had an analog childhood but digital adolescence, so while I remember not having the internet of recipes at my fingertips, it still takes me a few seconds to grasp how different it must have been not to have instant access to recipes for everything available at all times. I wonder how my bebe-to-be's life will be different from mine. Change is the only constant in life, I guess!
Speaking of change, you could easily change up this recipe. You could definitely make the ice cream yourself, if you wanted to cut out all preservatives and such. I have several no churn ice cream recipes on this blog, such as this one and this one. Just make the basic ice cream base (whipped cream and evaporated milk, plus an extract) and away you go! Or why not switch up the juices and extract and come up with your own creamy vanilla fruit juice float?
If you want to make this exact (and delicious!) one however, here's the recipe!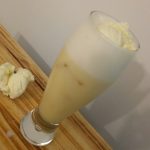 Creamy Vanilla Pineapple Float
This creamy float is healthier than you'd expect, and sure hits the spot in the summertime!
Ingredients
1

cup

pineapple juice

1/4

c.

milk powder

3

drops

vanilla extract

(about 1/16 tsp.)

1

squeeze

fresh lemon juice

1

scoop

vanilla bean ice cream
Instructions
Blend the first four ingredients together, until milk powder is completely dissolved.

Pour into a chilled glass, over ice, and top with a scoop of vanilla bean ice cream.
I've been drinking this float quite often over the past few weeks. I keep telling myself that if I don't serve it with a TON of ice cream, it's really quite nutritious! And even ice cream contains calcium, so…bottoms up!
Next Post: Possibly Easy Cherry Crumble Bars, or my Fan Favourite Potato Salad recipe. Mmm…want to eat them both right now! 
Linking Up at Meal Plan Monday, Happiness is Homemade, as well as the Clever Chicks Blog Hop!