This week's recipe is for Very Cherry Crumble Bars! I tend to have an over-stocked freezer (I don't have a deep freeze, just an over-the-fridge- freezer) as I'm always stuffing in pre-made meals to pull out for later. At any given time, I can usually pull out Carrot Ginger Stew, Easy Enchiladas, homemade bread, ingredients for smoothies, and various fruits and veggies that I've bought and frozen. As I want to stock the freezer in anticipation of baby's arrival, I decided to use up some of my single ingredients. Today, that ingredient was local cherries, that I had pitted and frozen!
With school lunches approaching for a lot of people, these bars can easily be baked, individually wrapped, and kept for the week's lunches. I personally try to pack them for my work lunches, but…they tend not to stay around too long. Unless I freeze them in layers, and that kind of defeats the purpose of clearing out my freezer.
I came up with the recipe after mashing together and then modifying a few different recipes. I liked the easy crust from one recipe, but changed a few ingredients, and the streusel from another recipe (again changing a few ingredients), and then just made up my own filling, based on what I know about fruit pie fillings. See? It really is easy to play around in the kitchen. If you're a bit hesitant about switching up ingredients, you can start out with simple substitutions. If you sign up for my newsletter, you'll also get a free copy of my e-book, This for That: Easy Kitchen Swaps and Hacks. You can find the sign-up on the right-hand side of the blog.
But back to these delish bars! Let's get to making some!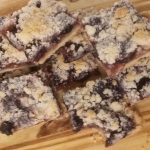 VERY CHERRY CRUMBLE BARS
With a shortbread crust, a very cherry filling, and a streusel topping, what's not to love?
Ingredients
1/3

c.

butter, softened

2/3

c.

sugar

1

tsp.

vanilla extract

1 1/2

c.

flour

3

c.

frozen cherries, defrosted and drained

1

tbsp.

flour

1

tsp.

corn starch

1/2

c.

sugar

1/8

tsp.

almond flavouring

1/4

tsp.

almond flavouring

3/4

c.

flour

1/3

c.

sugar

1/3

c.

butter, softened
Instructions
Line a lasagna-sized tray with tin foil (for easy removal of bars).

Mix the crust ingredients (the first four ingredients) together with a mixer until a fine crumb (almost sandy) appears.

Press the crumb mixture into the lined tray.

Mix the fruit filling (the next 5 ingredients) together, and pour over the unbaked base.

Mix the streusel topping (the last four ingredients) together, until a semi-lumpy crumb is formed.

Sprinkle streusel topping over the fruit filling.

Bake in a 375 degree oven for 45 minutes, until the topping is golden.

Remove from oven and let cool in pan for 30 minutes (this helps the base and filling become a bit firmer).

Once cool, either cut in pan, or lift out of pan using the tin foil edges and cut on a wooden cutting board.
This recipe makes a big batch (a lasagna-sized tray full) so it's great for a family, a potluck, or just to Netflix with your bestie. If you do freeze some, make sure you freeze them with wax papers between the layers of bars, and make sure the container is well-wrapped to protect against freezer burn.
Oh, and one more hint about substitutions. You can definitely switch out the cherries for other fresh or frozen fruit. If the fruit is super-juicy, keep the flour and corn starch amounts the same, but if it's a sturdy fruit such as apple or plum, just remove the corn starch (I add it to thicken up any juices that the fruit releases). Also, use an extract that works with the fruit. For example, I would use vanilla extract with apples, but almond extract with apricots. You do you, boo! And then comment on this post to let us know how it turned out!
Next Post: Maybe my Potluck-Friendly Potato Salad. Or perhaps a pasta salad. Or perhaps something else entirely! We'll see what baby is craving next week. 🙂
Linking Up at Meal Plan Monday, Happiness is Homemade, and the Clever Chicks Blog Hop!