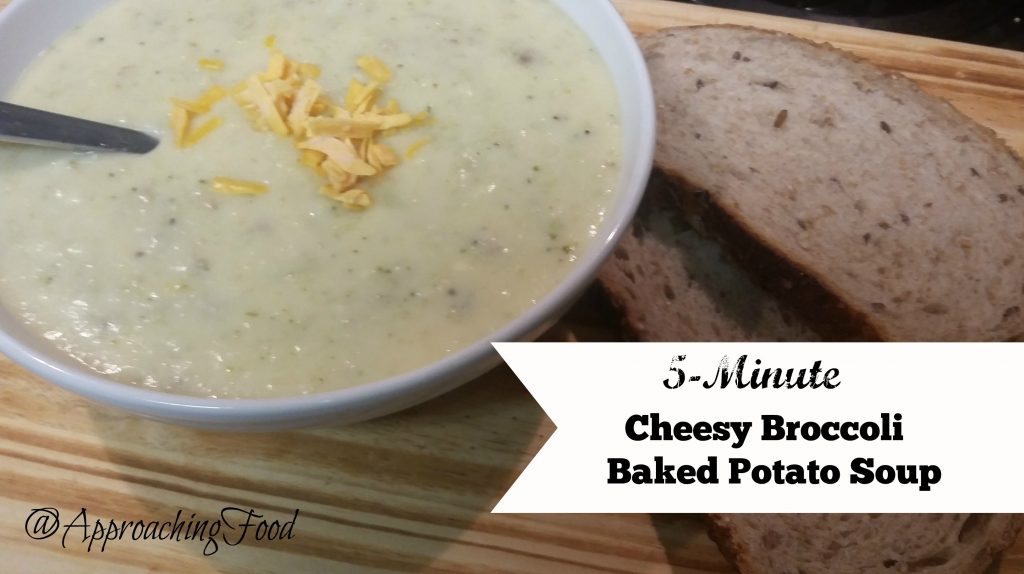 I'm sure that you've noticed that I haven't posted a new recipe in a few weeks, right? Well, that's because I…gave birth! To the most perfect little girl the DH and I could ever have imagined! At 7 lbs and 4 oz (ish. I'm too tired to properly calculate the conversion from kg to lbs), with a head full of hair and (so far) blue eyes, she's keeping us on our toes! But, we still need to eat. So, I pulled out some of the Easy Cheesy Broccoli Baked Potato Soup that I made during the last week of pregnancy. So easy. So cheesy. Basically a broccoli and cheese topped baked potato, but in soup form. And ready in 5 minutes. Are you hungry yet?
You use baked potatoes in this recipe (which I nuked in the microwave because I don't have time to wait for them to cook in the oven. My beloved newborn is a time suck!) as well as cheese sauce and cooked broccoli (I defrosted from frozen) and toss it together with a couple of other items, then blend it all, and voila, dinner (or lunch!) is served! Easy, yes?
The reason that I say it only takes 5 minutes to make, if that I assume you have a batch of leftover homemade cheese sauce lying around your kitchen. If not, just whip up one from my recipe here (or dump in cheez whiz or something. Sometimes eating something not super-healthy is better than eating nothing. Like when you have a newborn). Homemade cheese sauce is really easy to make though. It's basically a roux with cheese and extra milk. Like I said, check out my recipe here.
Now, let's get this soup train on the road!
Easy Cheesy Broccoli Baked Potato Soup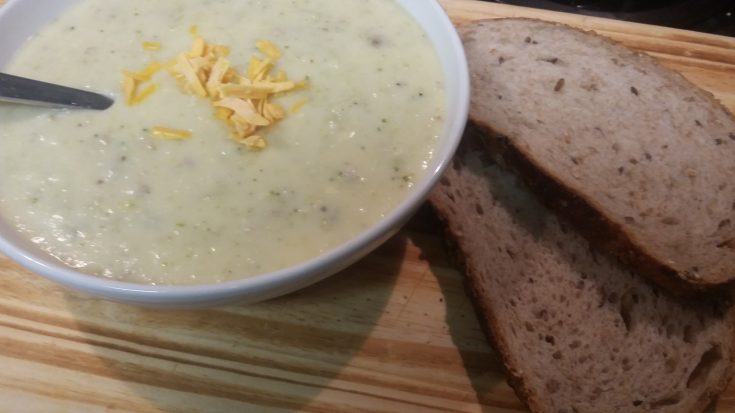 Leftovers transform into a hearty soup with this dish, perfect for lunch, dinner, or freezer!
Ingredients
2 potatoes, large
2 c. cheese sauce (homemade is best)
1 1/4 c. broccoli, cooked
2 c. chicken boullion (vegetarian)
pepper, to taste
cheddar cheese, grated optional, as topping
Instructions
1.     Bake (washed) potatoes in microwave.
2.     While potatoes are baking, place all remaining ingredients in a large soup pot and simmer.
3.     Once potatoes are baked, add to soup pot, skins and all.
4.     Using an immersion blender, blend to desired consistency.
5.     Serve with a sprinkle of grated cheese on top!
Nutrition Information:
Yield:
4
Serving Size:
1 1/2 c.
Amount Per Serving:
Calories:

555
Total Fat:

28g
Saturated Fat:

11g
Trans Fat:

0g
Unsaturated Fat:

15g
Cholesterol:

107mg
Sodium:

1292mg
Carbohydrates:

44g
Fiber:

6g
Sugar:

3g
Protein:

31g
Oh, and I nearly forgot to tell you about my newfound love of frozen peas! Well, I'm sure any new mom would be happy to tell you how useful they are. For sitting on. Just keeping it real, folks! (Seriously though? LOVING the frozen peas! Not too tmi, I hope?)
And on that note, I'm off to check on my daughter (eeeek! I have a daughter!) and hopefully grab a nap. Laters, all!
Next Post: I have a recipe for Alphabet Soup that can be tossed together easily, is hearty, and even got the nod of approval from the soup-tired DH! When will I post it? Well, take that up with Little Miss Poopy-pants. She now runs the roost around here.