I like my scones kind of like biscuits, as opposed to the more solid pucks that are sometimes sold as scones. So this recipe for Quick & Easy Orange & Lemon Scones is actually an adaptation of a biscuit recipe. Like biscuits, the less you handle scone dough, the fluffier they are and the more they rise, so be sure not to over-mix.
And, like biscuits, you can put the scones in the oven with the sides touching, for soft sides, or on their own, for crispier sides. I think scones should have crispier sides, so I put them without touching, but you do what you like!
This recipe is very adapatable. You can put in other sorts of candied citrus, and use a mix of lemon, lime, or orange peel! I just suggest that you use organic produce to get the zest, as nobody wants zested pesticides.
FYI, the butter is grated so that you handle the dough less when incorporating the butter, and so that the butter can be cold when the dough is popped into the oven. Both of these things make for a fluffier scone!
Now let's get baking!
Yield: 8 scones
Quick & Easy Orange & Lemon Scones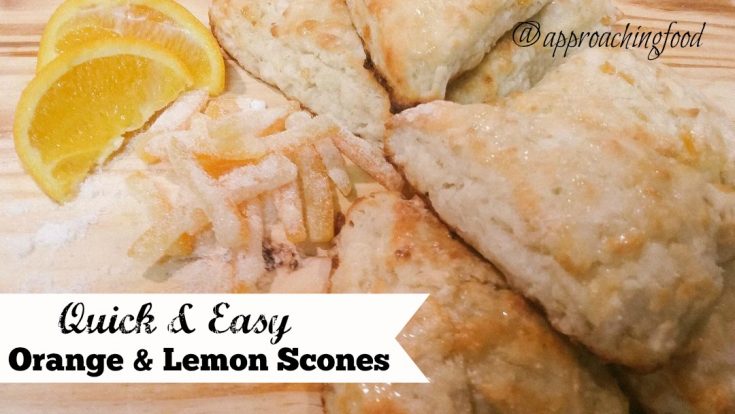 These fluffy scones are studded with citrus zest and candied citrus peels! A delicious and super-quick breakfast, no matter the season!
Additional Time
2 minutes
Ingredients
2 c. flour
1 tbsp. baking powder
½ tsp. salt
½ c. cold butter, grated
1 c. yoghurt
1/3 c. chopped candied orange peel (I made my own and stored it in sugar)
3 tbsp. sugar (I used the sugar I tossed the orange peels in, for extra citrus flavour)
1 tbsp. lemon or lime zest (I used a combo of both)
1 tbsp. turbinado sugar (optional)
1/4 c. icing sugar
1 tsp. lemon juice
Instructions
Mix all ingredients except for the yoghurt, turbinado sugar, icing sugar, and lemon juice.
Stir in yoghurt, until just mixed in.
Gently pat into a round on floured surface. Cut into 8ths and place on an ungreased cookie tray. Sprinkle turbinado sugar on top.
Bake at 450 degrees until golden on top, about 8-10 minutes.
Mix lemon juice and icing sugar together and drizzle over warm scones. Enjoy the scones warm, cold, or toasted with fresh butter or some homemade jam!
Nutrition Information:
Yield:
8
Serving Size:
1 scone
Amount Per Serving:
Calories:

320
Total Fat:

12g
Saturated Fat:

8g
Trans Fat:

0g
Unsaturated Fat:

4g
Cholesterol:

32mg
Sodium:

441mg
Carbohydrates:

48g
Fiber:

1g
Sugar:

22g
Protein:

5g
Given the use of candied orange peel, this recipe for Quick & Easy Orange & Lemon Scones makes for a sweeter scone, so if you're more of a hearty breakfast eater, this is likely more of a dessert scone for you. Luckily, I like my sweets (*regular blog readers gasp in faux surprise*) so I enjoyed these for breakfast!
Next Post: A green bean side dish. Maybe with lemon zest? I've got a bag of crisp green beans in my fridge that is calling my name. Yummy, crisp, fresh green beans!