I have so many apple-y things to talk about that I don't know where to start. So I'll just dive right in!
This week my on-line bake-a-long group is making Dorie Greenspan's Apple Kuchen, from her Baking Chez Moi cookbook. It's a cross between an apple tart and a custard, and reminds me so very much of my Opa's Appel Taart (Opa is what the Dutch call their Grandfather. Germans do the same, incidentally.) My mum still reminisces about my Opa's Appel Taart, how it was not too sweet and not too tart, how the apples were grated, and how the crust was less flaky and more crunchy. One day I'll find the perfect recipe to replicate that recipe for my mom, but until then, this is the closest that I've seen.
This kuchen (German for cake — hey, you get a language lesson along with my blog post! *grin*) is made in four parts.
First you make the dough which, quite honestly, can be a bit fiddly to make. I had to add two tablespoons of water to make it stick together, and then I did what Dorie suggested, and rolled it out on some parchment before placing it in the springform pan. It came together relatively smoothly, but from reading some of the other members blog posts, that wasn't the case for everyone.
Then you mix up a graham cracker and butter crumb mixture to spread across the bottom of the pan. Dorie says that you can also used crumbled Petit Beurre biscuits. I had neither and did not feel like an extra trip to a store to pick some up. As it was, I had to pick up the butter, eggs, and cream from a pharmacy/food store on my lunch break; I did not want another shopping trip after work as well. So me being me, I used a mixture of ground almonds, regular flour, and butter. I figured that it was basically to absorb the juices of the apples and to sort of seal off the pastry crust from the custard. So ground almonds for texture and flour for its absorptive properties.
Next up is the apples. I actually went apple picking with the DH yesterday, so these Ontario McIntosh apples are just about 24 hours off the tree. Nice, huh? I plan to make apple butter and apple crumble with the (many) remaining apples.
And speaking of apple crumble, guess what? I'm a finalist in the Apple Crisp Home Baking Recipe Competition in the Canada's Baking and Sweets Show! The bake-off, with the recipes being prepared by "expert chefs", is this weekend. Wish me luck!
But back to our kuchen. So you chop up the apples, and sprinkle some rum-soaked cranberries on top. Technically it's supposed to be rum-soaked chopped apricots or raisins, but eh, because again I was trying to avoid yet another shopping trip. So cranberries it is! Close enough, right?
Then you pop the whole thing into the oven for 15 minutes, to sort of pre-bake the apples and crust. Next you mix up the custard out of eggs, sugar, and cream (or crème fraiche) and pour it on top the semi-baked kuchen. Bake that baby for 60 minutes(-ish), then sprinkle some sugar (I omitted the butter) on top and broil it until it's bubbly, and you're good to go!
Best to let the kuchen cool a bit before eating it, so that the custard sets up, but really, when dessert smells this good, who wants to wait? Not I!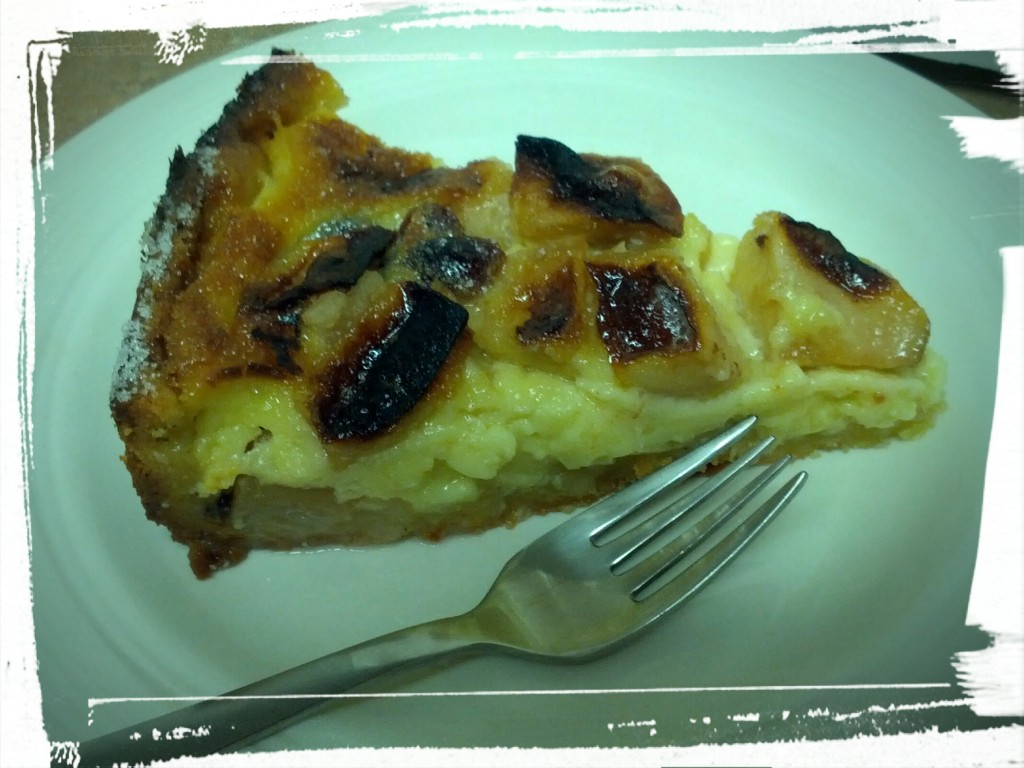 Interested in reading about how others made this recipe? Check it out here!
Next Post: I've been dreaming of Chocolate and Peanut Butter Reese's Cupcakes ever since I bought some Reese's spread on double-sale, so that's likely going to be next! I plan to counteract the effect of all this sugar by consuming the 10 lbs of beets that I have sitting in my kitchen. Probably in pickled beet form. Mmm yum!