I've been craving those amazing lemony potatoes that one can buy at Greek fast-food takeout shops recently, and finally decided to come up with my own recipe. The secret to making these taste amazing? Aside from fresh potatoes? Chicken-flavoured bouillon! And yes, there is a vegetarian version of chicken bouillon — who knew? So, that's this week's recipe: Greek-Style Lemony Potatoes! Fluffy potato wedges, redolent of lemon and olive oil, with chicken and garlic undertones…so, so yum!
I read through several recipes to get the gist of how they are usually made, and then came up with my own short-cut version. By partially boiling the potatoes (in a garlic & bouillon stock) prior to baking them in the lemon, oil, and herb mixture, you cut the cooking time significantly. And who wants to spend extra time cooking if you don't need to?
These delicious potatoes are soooooo good that they can be eaten all by themselves, but they would also be fabulous served with a Greek salad (such as my The Only Greek Salad Recipe You'll Ever Need). For meat-a-tarians like my husband, a skewer of meat would probably complement the meal nicely, but really, the potatoes are so flavourful that I think a side salad is all you need.
Let's get to making some!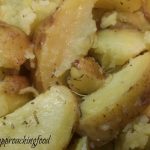 GREEK-STYLE LEMONY POTATOES
This herbed and lemon-flavoured potato dish is a homestyle version of the takeout classic. A stock make of chicken-flavoured bouillon and garlic gives it the classic flavour!
Ingredients
6

potatoes

1

tsp.

oregano, thyme, and rosemary, each

2

cubes

chicken-flavoured bouillon

(enough to make 8 cups of stock)

1/2

c.

olive oil

2

cloves

garlic, quartered

8

c.

water

1/2

c.

lemon juice

(fresh is best, but bottled is ok too)
Instructions
Add bouillon and garlic to water, and bring to a boil.

Cut potatoes into wedges (6 to a potato) and add to garlic & bouillon stock. Boil until firm but can be pierced by a fork. (Be careful not to cook potatoes fully, or else they'll turn into mashed potatoes in the oven. Delicious, but not the aim of the recipe.)

In an oven-proof container, mix olive oil, herbs, 1 c. of the bouillon and garlic stock (along with all of the garlic from the stock), and the potatoes.

Bake in a 400 degree oven, until potatoes reach their desired level of doneness. (Some people prefer softer potatoes than others.). I baked for about 30 minutes, until most but not all of the liquid had been absorbed/evaporated; I suggest checking every 15 minutes to make sure they reach your particular taste for doneness.

Served with a Greek Salad, and enjoy!
Recipe Notes
I used McCormick vegetarian chicken bouillon because I'm vegetarian, but if you just have regular chicken bouillon, that's fine too. And if you find another vegetarian chicken bouillon, let me know! So far the only one I've ever come across is McCormick's.  
I made these last weekend, thinking that there would be enough for several meals worth, but…apparently they are too delicious to sit in the fridge for long. The next day there were all gone. The culprit? My beloved DH who enjoyed them for snacks and for dinner the next day. I came home after work to find him serving himself the last of the potatoes for dinner, topped with some cheese. He did look slightly guilty that he hadn't left any for me, but…not guilty enough to have left any. In other words, Greek-Style Lemony potatoes are dee-licious!
Next Post: Either Blue & Blackberry Jam, or The Ultimate Macaroni Salad. I have amazing (and EASY) recipes for both! 
Linking Up at Meal Plan Monday!