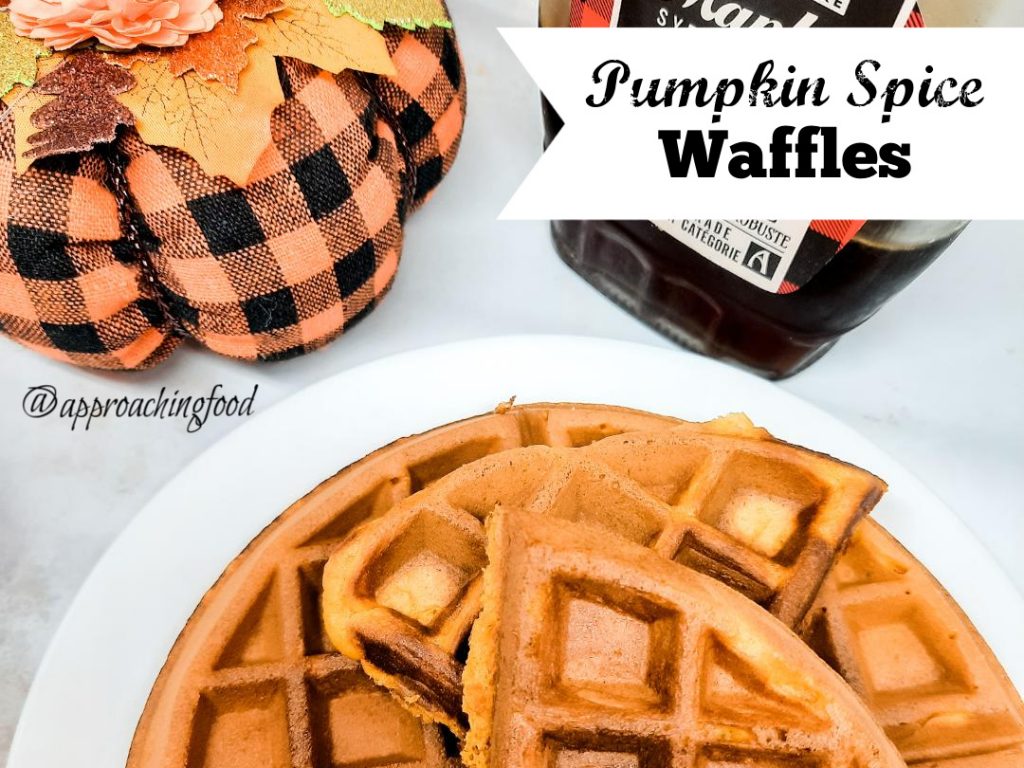 I love a yummy breakfast, and fresh homemade waffles always hit the spot for me. But I try to add some extra nutrition whenever I make pancakes or muffins or really any breakfast type baked good, so these golden and crisp waffles have some delicious pumpkin and spice added in. The flavour of these light yet satisfying Pumpkin Spice Waffles is *chefs kiss*!
I know my last recipe was also a pumpkin spice recipe, but…hey, it's fall, I've been cooking with squash (butternut squash soup, yum!), baking with squash (butternut squash muffins, yum!), taking my daughters to a pumpkin patch (classic!), and yes, making pumpkin spice flavoured food. I mean, the flavour is popular for a reason — it's yummy!
So, let's jump into the season head first and make these fragrant and fluffy waffles!
Yield: 4 large waffles
Pumpkin Spice Waffles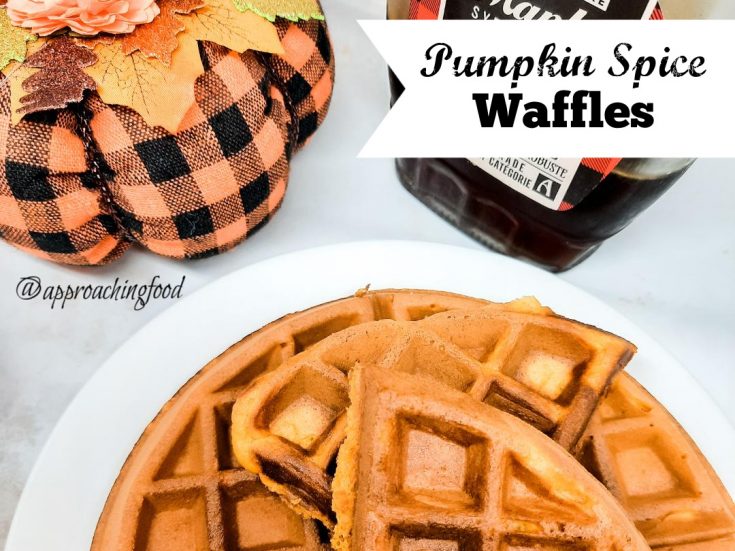 Light, fluffy, and tasting of seasonal pumpkin and spice, these waffles are easy to throw together, and can be frozen and reheated easily.
Ingredients
1 c. self-raising flour
1 c. pumpkin pie filling
2 eggs
1 c. milk
1 tbsp. vegetable oil
Instructions
Mix all ingredients together.
Cook in your waffle maker, according to the instructions on your waffle maker. (It takes me 12 minutes with my waffle maker.)
Eat! Yup, it's that easy!
Notes
I used pumpkin pie filling because someone had bought it for me, thinking it was pumpkin puree, so I used it because I hate food waste. But if you wanted to make sure your food was preservative-free, you could also use pure pumpkin puree, and just add in a tsp. of pumpkin spice (which can be bought or made from scratch). Got to love a flexible recipe!
Want to know the secret to a perfectly fluffy and light waffle? It has mostly to do with which waffle maker you choose. There are two types that cook waffles best: the restaurant-style machine that lays flat and where you have to spin the handle to turn it, or the type of machine that stands up and has a spout at the top to pour in the batter. I have the latter, and it DEFINITELY is an improvement over the standard flat pour-and-cook model. But hey, any waffle machine makes waffles, and the taste of a homemade waffle is definitely better than any frozen kind I've ever tasted!
These Pumpkin Spice Waffles are so light and fluffy, full of real pumpkin and that delish seasonal pumpkin spice! Try them out for a fall breakfast today, perhaps with some maple syrup and a few pats of butter! They also freeze and reheat in the toaster easily, so if for whatever reason you don't eat them all, you know how to save them for another easy breakfast!
Next Post: Oh my gosh, my to-be-baked/written up/posted list is soooo long! Shortcut Spanokopita Hot Pockets? Maybe, possibly!