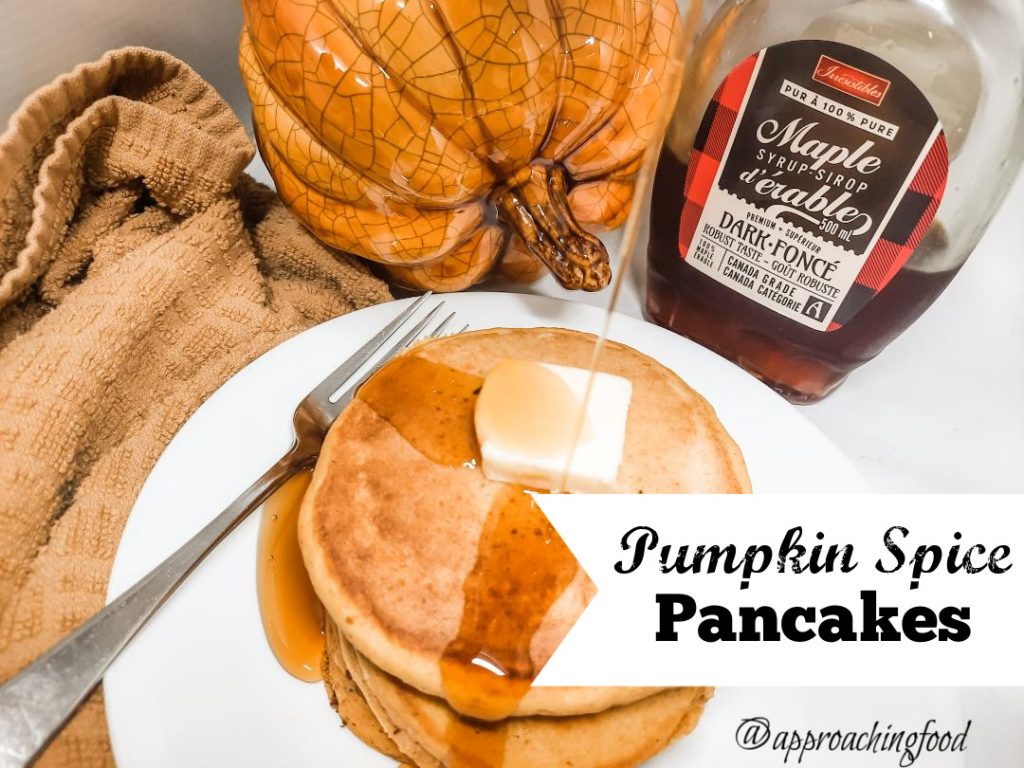 I was never one to get on the PSL bandwagon, but I know Fall in North America is often made of PSL and spice and everything nice. But the food that I'm making at least once a week these days, despite it still being the dog days of summer? Pumpkin Spice Pancakes! These are buttermilk pancakes but extra plush with the addition of pumpkin puree and just the right amount of fall flavour from the pumpkin pie spice. Buttery and fluffy, with bright flavour, these are the perfect pancakes for eating on crisp fall mornings, just before heading out on a hike to see the fall colours.
And bonus? They are SO EASY to make! These Pumpkin Spice Pancakes using self-raising flour, which means you don't have to measure out the baking powder or salt. Fewer things to fiddle with means breakfast is on the table faster without having to rely on processed convenience foods.
While you can use buttermilk in these pancakes, I just use homemade sour milk (aka milk with a splash of vinegar, left to sit), which has the same effect on the pancakes, making them rise higher.
Yield: 6 pancakes
Pumpkin Spice Pancakes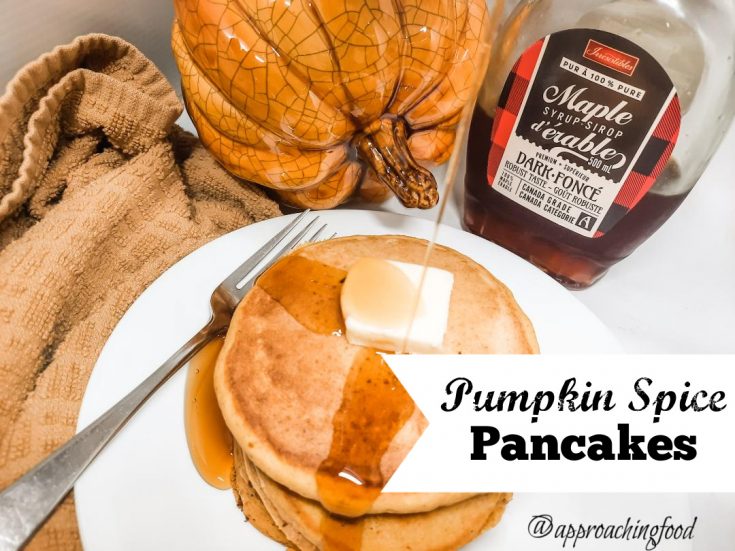 These buttery and plush pancakes are made with real pumpkin puree and delicately spiced with pumpkin pie spice. Perfect for crisp Fall morning breakfasts!
Ingredients
1 1/4 c. self-raising flour
1 egg
1 c. sour milk
2/3 c. pumpkin puree
1 1/2 tsp. pumpkin pie spice
Instructions
Mix all ingredients together.
On a hot buttered griddle, or in a buttered pan over med-high heat, pour a scoop of batter.
Fry until bubbles appear on surface of pancakes, then flip and fry on the other side until golden.
Repeat until batter is all done, and enjoy!
Notes
You can make your own self-raising flour and pumpkin pie spice, or you can just buy them as is. They're not processed, so if you're rushed for time, they're handy to have.
Sour milk is just milk with a splash of vinegar added, and let to sit for a minute. Or just use buttermilk if you have it. It's a very versatile recipe!
Nutrition Information:
Yield:
6 pancakes
Serving Size:
2 pancakes
Amount Per Serving:
Calories:

102
Total Fat:

1g
Saturated Fat:

1g
Trans Fat:

0g
Unsaturated Fat:

1g
Cholesterol:

26mg
Sodium:

259mg
Carbohydrates:

18g
Fiber:

1g
Sugar:

1g
Protein:

4g
If you happen to have any leftover pancakes, just freeze them individually, then place them all in a container in the freezer. Pop into the toaster (or microwave) for a quick and easy breakfast any time!
You can serve these plush and golden Pumpkin Spice Pancakes with the traditional butter and maple syrup, or perhaps top with some cinnamon-dusted whipped cream for that extra PSL experience. A friend of mine even suggested smearing with maple syrup-sweetened cream cheese. However you top them, these easy and quick Pumpkin Spice Pancakes are sure to make a PSL-lover out of you!
Next Post: I have a list as long as my arm of recipes that I want to post. Do I have time to post them, while raising an infant and a toddler in a pandemic? Not so much, but…I'll try anyway! Perhaps the Shortcut Spanakopita Hot Pockets I've mentioned before! Easy, healthy, and yummy!