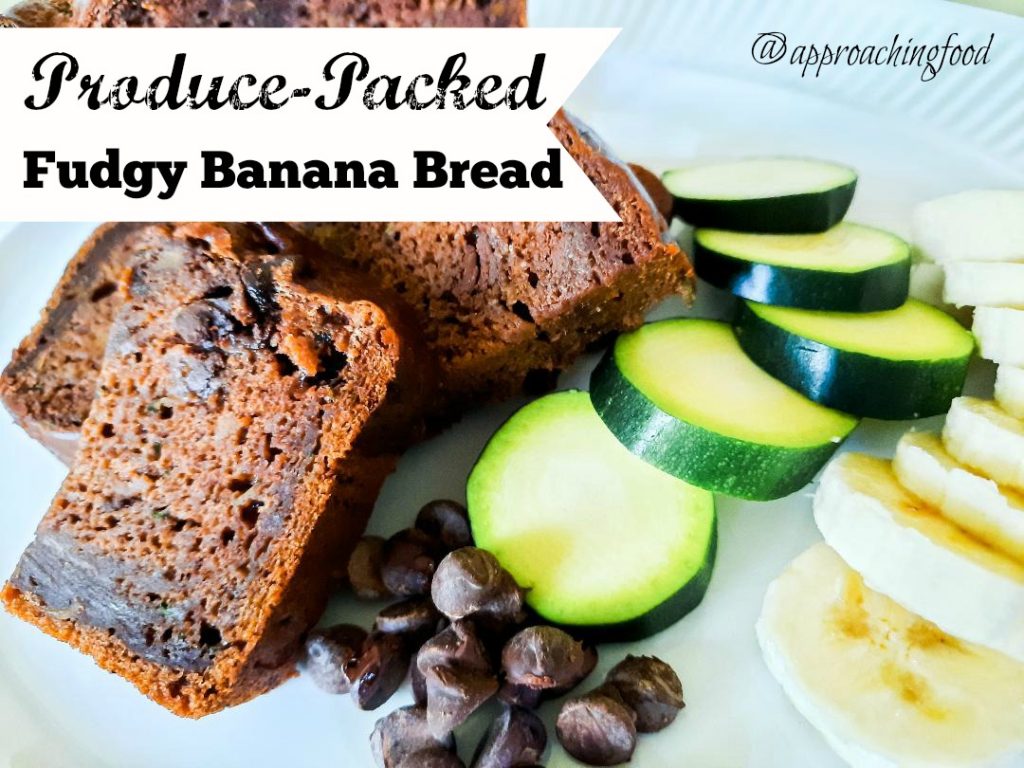 I have always been a bit of a snacker, and if that snack includes chocolate, well, I am THERE for it! But as much as I love brownies (and I do!) occasionally I would like something healthier. But give up my chocolate? Never! Which is why this Produce-Packed Fudgy Banana Bread is so incredible! It's basically like eating a slice of super-dense and super-moist fudge cake. You'd never know that packed into each loaf is an entire zucchini, a sweet potato, and two bananas! That's right, a super-fudgy chocolate loaf cake that is 1000% guilt-free! It's even vegan!
I mean, picture a loaf pan in your head; now fill it with a zucchini, a sweet potato, and two bananas. Pretty full, isn't it? And yet somehow that is transformed into a loaf of chocolate cake! So I feel pretty guilt-free eating this cake, knowing that I'm getting a solid hit of vitamins and minerals from a variety of fruits and vegetables. Chocolate cake that you can genuinely feel good about; how amazing is that? I told a friend of mine about this cake and she said to call it Magic Chocolate Snack Cake. It IS pretty magic!
Want to make some HEALTHY chocolate magic for yourself? Let's!
Yield: 1 loaf
Produce-Packed Fudgy Banana Bread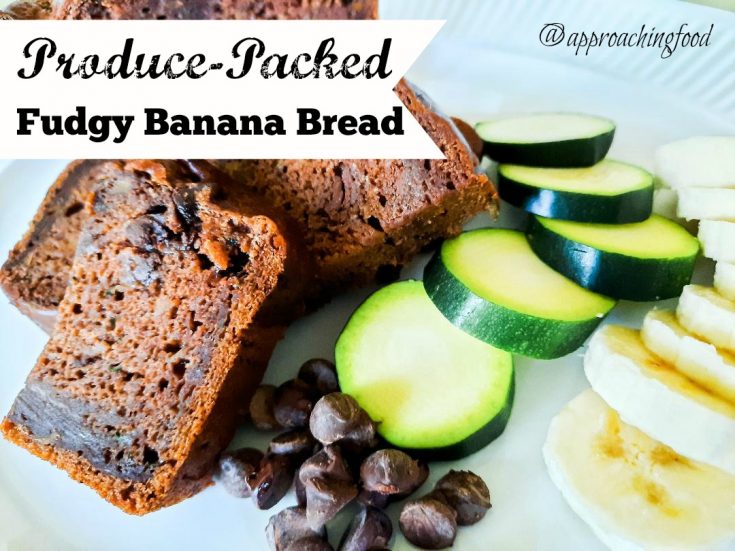 This super-moist fudgy banana loaf is stuffed full of vegetables and fruit (sweet potato, zucchini, and banana), but you'd never know how healthy it is by the luscious chocolate taste!
Total Time
1 hour
10 minutes
Ingredients
2 bananas
1 medium zucchini, grated
1 medium sweet potato
1/3 c. sugar
1/3 c. cocoa
1/4 c. oil
1 1/2 c. flour
1/2 c. water
3/4 tsp. baking soda
3/4 tsp. salt
1/3 c. chocolate chips
Instructions
1. Bake sweet potato in the microwave (on the potato setting) or roast it in the oven. Let cool.
2. In a large bowl, mix the inside of the sweet potato with water, and mash with a fork until it is a soupy puree.
3. Mash banana and add to sweet potato puree.
4. Add in all other ingredients and stir, to form a thick batter.
5. Pour mixture into a buttered (or margarined!) loaf pan and bake at 400 degrees Fahrenheit for 55 minutes.
6. Let cool in pan for 5 minutes, then run a knife around the edge and turn out onto a cooling rack to cool completely. Enjoy!
Notes
This is a super-moist chocolate loaf and is best stored in the fridge. It freezes well and is great to tuck into lunch boxes as a healthy treat!
Got excess zucchini? This the loaf to make. Want to impress people with delicious chocolate cake and then reveal that more than half of it is made of fruits and vegetables? This cake will shock and awe! Want to eat cake but need to get some veggies in too? This cake will serve it up!
If I've stressed how healthy this cake is, let me also stress how delicious it is. My meat-loving, veggie-adverse hubby happily ate several slices of this cake and would have eaten more if I hadn't told him I still needed to photograph it for the recipe. My toddler daughter kept signing 'more' when I gave her a few bites at lunch. I personally have eaten at least half of the loaf in two days and haven't gained weight (which definitely would have happened if I had eaten regular chocolate cake).
It's moist, it's plush, it's like eating the insides of the best chocolate cake ever, but with zero regrets, because you know you're also eating fruits and veggies. I can't think of more words to express how delicious this loaf cake is, so you'll just have to make it for yourself. Be prepared to share the recipe love, because it is just so delicious (and full of veggies)!
This super-fudgy chocolate cake hides a healthy secret: each loaf contains an entire zucchini, a sweet potato, and two bananas, yet tastes like the best chocolate cake you've ever had. Whether you're trying to eat healthier, or are just craving chocolate, this Produce-Packed Fudgy Banana Bread will fulfill all of your cravings!
Next Post: Riced Cauliflower with Sesame Ginger Broccolini, or maybe just something cold, because it's heatwave time round here!