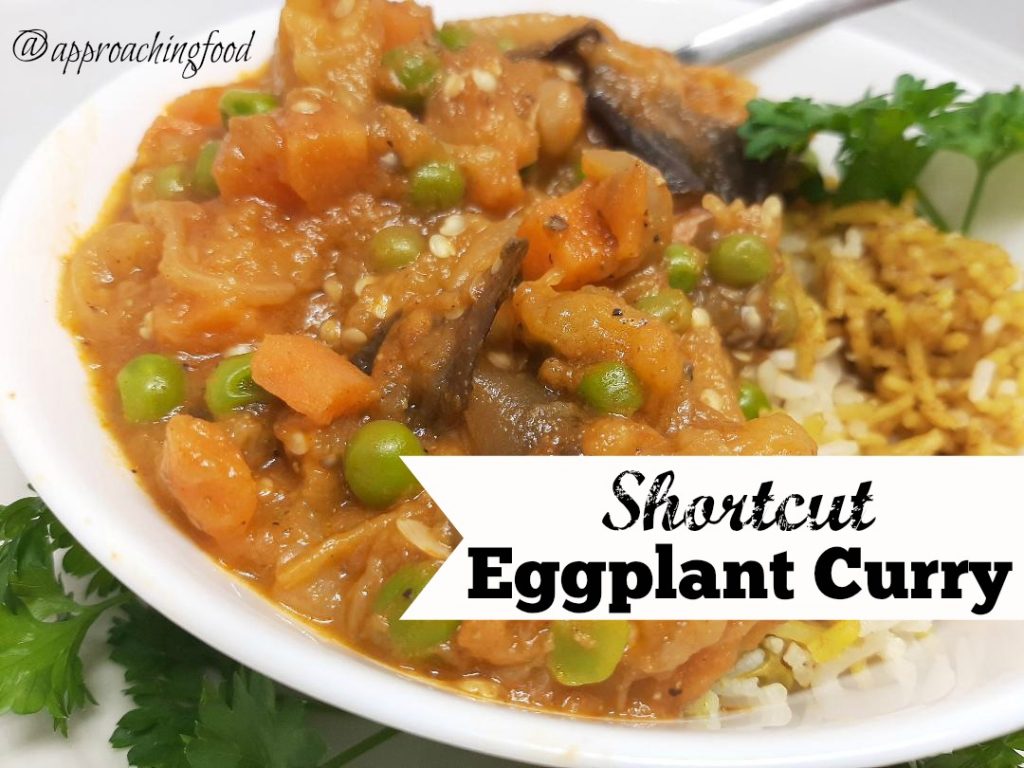 Growing up, I ate delicious foods from around the world. With a childhood in a multicultural city and immigrant parents, it was hard not to be exposed to (and enjoy!) a wide variety of dishes and tastes. I was also lucky that my mother cooked everything from meat and potatoes to Indonesian rijsttafels to Mediterranean stuffed vine leaves to Indian curries. When I went to university, I was absolutely flabbergasted that a classmate had never tasted a curry, which at the time I considered to be as standard a dish as lasagna. Now I know I was very lucky to be exposed to so many delicious foods as a child, and happily explore cuisines on my own. One of my favourite dishes from my local Indian restaurant is Eggplant Bharta, so naturally I had to come up with my own easy version. May I present: Shortcut Eggplant Bharta (aka Eggplant Curry)!
This flavourful yet nourishing curry has lots of protein despite being vegetarian and reheats and freezes well. If you're not a fan of eggplant, never fear, it doesn't actually taste very "eggplant-y". Instead, it's more like a rich tomato-based veggie stew, steeped in aromatics and seasoned with classic Indian flavours like cumin. (Incidentally, cumin is a large part of the flavour of a lot of Mexican dishes. If you like Mexican food, curries aren't that big a gustatory leap.)
Yield: 8 servings
Shortcut Eggplant Bartha (Curry)
This tomato-based curry is flavourful, nutritious, and has an easy shortcut built in! Plus, it freezes and reheats well!
Ingredients
1 medium-sized eggplant
1 onion
3 cloves garlic
2 tbsp. oil
1/4 tsp. mustard
1 tsp. salt
1/4 tsp. pepper
heaping tsp. coriander
2 tsp. cumin
1 tsp. sugar
1 tsp. smoked paprika
3/4 c. tomato sauce
2 c. mixed peas and carrots (froz.)
1/2 c. water
Instructions
Prick eggplant all over with a fork. Microwave on potato setting (or on medium-high until mushy inside). Let cool, scoop out the insides, and set those aside.
In a pot, heat oil and add in garlic and onion, roughly chopped.
When onion is translucent, add in mustard, salt, pepper, coriander, cumin, and smoked paprika.
Stir until bubbly, and add in sugar, water, and tomato sauce.
When bubbly again, add in frozen peas and carrots, as well as the eggplant.
Cook over medium heat until veggies are thoroughly heated.
Then simmer over low heat for 20 minutes to let the flavours meld. (If I'm hungry, I just skip this step, tbh.)
Serve over rice and/or with flatbread, and enjoy!
Notes
Smoked paprika is essential in this dish in order to get the smoky flavour that is usually achieved by roasting the eggplant until charred on the outside. But in the interests of saving time, I find it much easier to microwave the eggplant and just add smoked paprika! Alternatively, you could add a few drops of liquid smoke. Not as healthy, but definitely adds a lovely smoky flavour to the dish!
Nutrition Information:
Yield:
8
Serving Size:
1
Amount Per Serving:
Calories:

93
Total Fat:

4g
Saturated Fat:

0g
Trans Fat:

0g
Unsaturated Fat:

4g
Cholesterol:

0mg
Sodium:

432mg
Carbohydrates:

14g
Fiber:

4g
Sugar:

6g
Protein:

3g
I like to serve it over plain or seasoned rice (a pinch of turmeric in the pot when making rice adds a gorgeous golden colour), but you could serve it will a lovely flatbread such as my Garlicky Indian Flatbreads (aka paranthas). Or serve it with both turmeric rice and garlicky paranthas! This is a great dinner party recipe, as it can be made in advance and reheated. And who wouldn't be impressed by a homemade, preservative-free curry, served with homemade bread? I've packed it for lunches, and frozen individual servings as well. It's just such an easy, delicious, versatile curry recipe!
Oh, and the shortcut? Microwaving the eggplant instead of roasting it in the oven. Keeps the kitchen cooler in the summer, and saves So Much Time!
Whether you serve this Shortcut Eggplant Curry with flatbreads or seasoned rice, it's an easy yet flavourful dish that packs a nutritional punch. Who needs takeout when homemade is this delicious?
Next Post: Maybe my Hawaiian Calzone recipe, maybe something else (Cocoa Banana Beet Loaf, anyone?) By the way, I'm getting ready to start sending out a weekly email newsletter instead of my usual new post notification. Want to get on the email list (which includes weekly tips and tricks)? Just subscribe to my list by entering your email address in the 'subscribe' box in the right hand column!