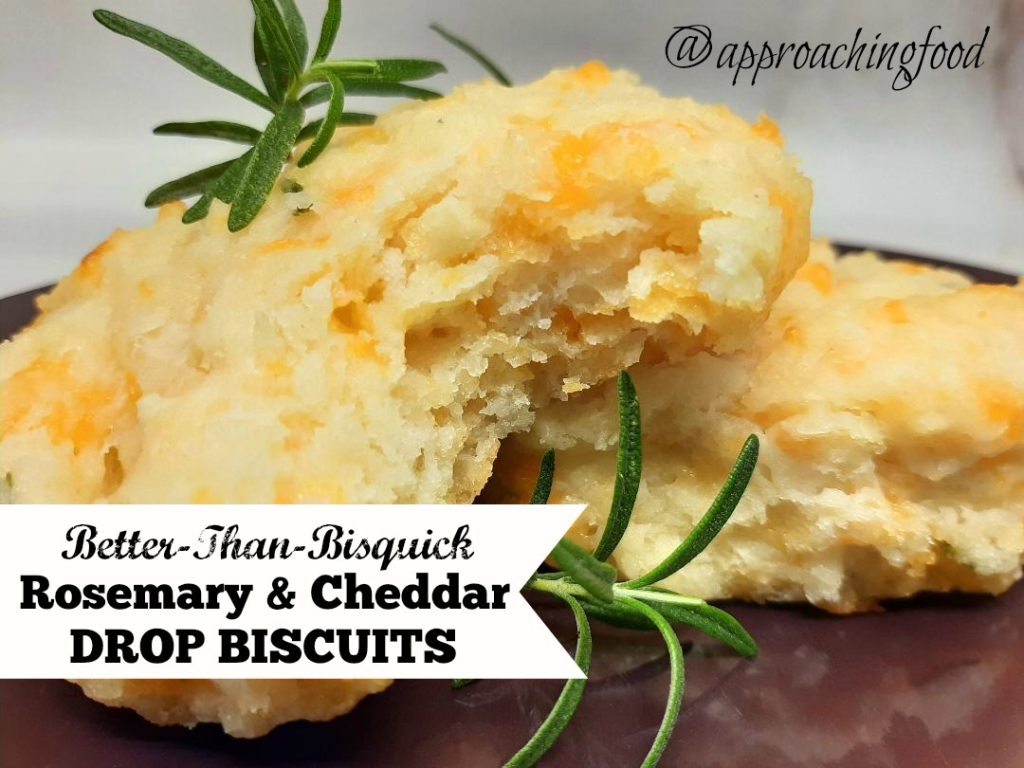 Every now and then I get a sudden carb craving, and when I do, I like to whip up some homemade bread. If I don't have time (or patience) to wait for dough to rise, then I just make these Better-Than-Bisquick Cheddar & Rosemary Drop Biscuits — they're mixed up and literally dropped by spoonfuls onto a baking sheet. You can have them mixed up, baked, and eaten in half an hour! Better than any baking mix, and preservative-free, so yay for that!
Cheddar & Rosemary Drop Biscuits are my personal favourite, especially with homegrown fresh rosemary. But you could easily substitute in different herbs; just use whatever you have at home! I often freeze any leftover biscuits and then just pop them in the microwave for 30 seconds to heat them up whenever I want a warm and cheesy biscuit, but they're really best when just out of the oven.
Make these easy biscuits for company and watch how impressed everyone will be with you! As easy as baking with a mix, but made from scratch and preservative-free!
Let's get baking!
Yield: 12 large biscuits
Better-Than-Bisquick Cheddar & Rosemary Drop Biscuits
These cheesy, herbed biscuits can be mixed up and baked in under half an hour. The perfect dinner biscuit or complement to a bowl of soup, plus they freeze well!
Ingredients
3 c. flour
1 tbsp. honey
1/2 tsp. salt
4 tsp. baking powder
1/2 tsp. cream of tartar
3/4 c. cold butter
2 c. yoghurt
2 large sprigs of rosemary (or 1 tbsp. dried rosemary)
3/4 c. cheddar cheese
Instructions
Preheat oven to 450 degrees.
Mix flour, salt, baking powder, rosemary, and cream of tartar together.
Grate (yes, grate) the cold butter and stir into the dry ingredients.
Stir in the grated cheese.
Mix in the honey and yoghurt.
Drop by large spoonfuls onto a baking sheet, with the sides touching. If you prefer to have crispier sides to your biscuits, use two baking sheets and only put 6 large spoonfuls on each sheet.
Bake for 10 minutes or until the biscuits are golden on top and bottom.
Serve warm and enjoy!
Notes
To make fluffy biscuits follow these tips:
use very cold butter (I like to grate it but you could finely cube it as well)
don't over mix the batter
pre-heat the oven so that as soon as the biscuit dough is done, you can bake the biscuits immediately (while the butter is still cold)
Nutrition Information:
Yield:
12
Serving Size:
1 large biscuit
Amount Per Serving:
Calories:

277
Total Fat:

15g
Saturated Fat:

9g
Trans Fat:

1g
Unsaturated Fat:

5g
Cholesterol:

40mg
Sodium:

428mg
Carbohydrates:

29g
Fiber:

1g
Sugar:

4g
Protein:

7g
As I said, you could easily change up your herbs when making these Cheddar & Rosemary Drop Biscuits. What about cheddar and thyme biscuits? Mozzarella and oregano biscuits? Perhaps with a marinara dipping sauce? Or add freshly chopped garlic and parsley to make garlic cheddar biscuits! I guarantee you that those will disappear as soon as you make them! Mmm…I think I know what kind of biscuits I'll be making next!
Next Post: Either Double Berry Cheesecake, or Cinnamon Swirl Bread! I've made both, I've eaten both, and I will probably never lose those last 10 lbs of pregnancy weight because of this blog and all the delicious things I MUST bake. What can I say, a blogger's work is never done!