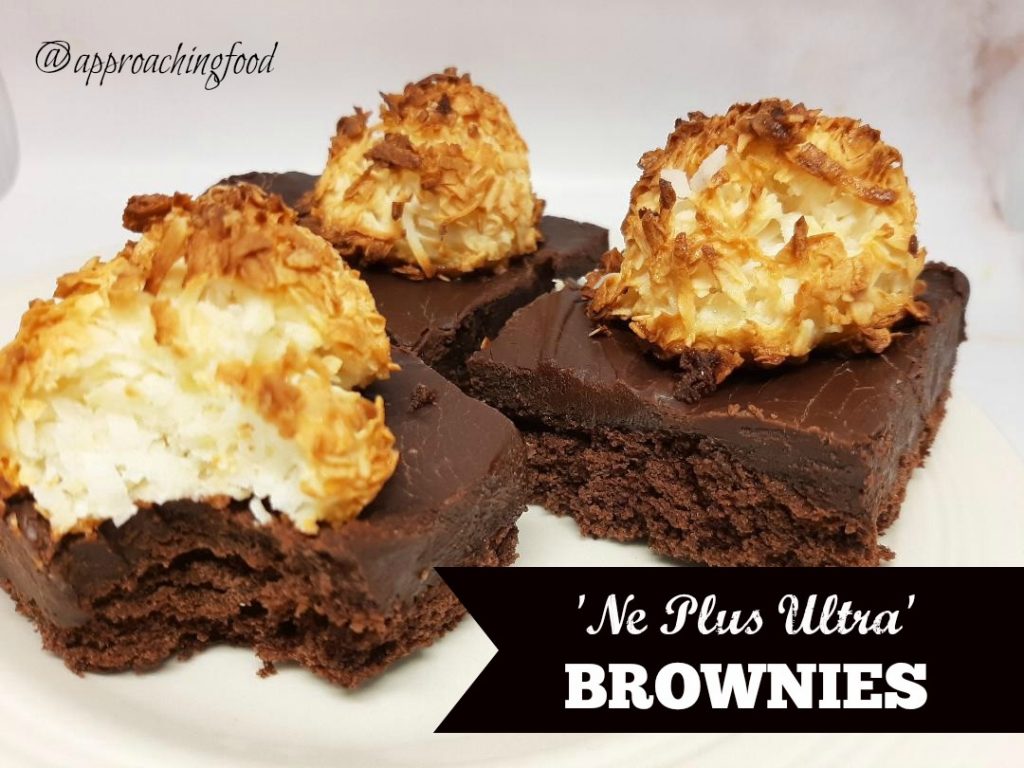 I've been craving rich desserts lately, especially chocolate. No idea why. Maybe exhaustion? It's been a busy summer! So I decided to indulge my cravings and created a rather decadent brownie: I call it the 'Ne Plus Ultra Brownie', because you can't really get any better than this! It's a rich brownie which is covered with a layer of chocolate fudge, and then topped with a coconut macaroon. It's fudgy and dense and coconutty and rather over the top! And did I mention that it's oh so delicious?
This three-dessert mashup looks time-consuming, but really isn't. You just pop a brownie into the oven, and then stir up the fudge topping while it bakes. Pour the fudge topping on to the brownie, and while it sets, bake up your macaroons and once they're done, pop them right on top of the fudge. Honestly, it really isn't as hard as it might seen.
I served these to a friend and she took one home for her partner. Her exact words to me were that "he said it was the best brownie he's ever had!" High praise indeed! I think the fudge topping really makes it, and the coconut macaroon on top adds both texture and another element of flavour. Basically, this brownie is worth making just for the happy, happy pleasure of eating it!
So, let's get to the recipe!
Yield: 12 squares
The 'Ne Plus Ultra' Brownie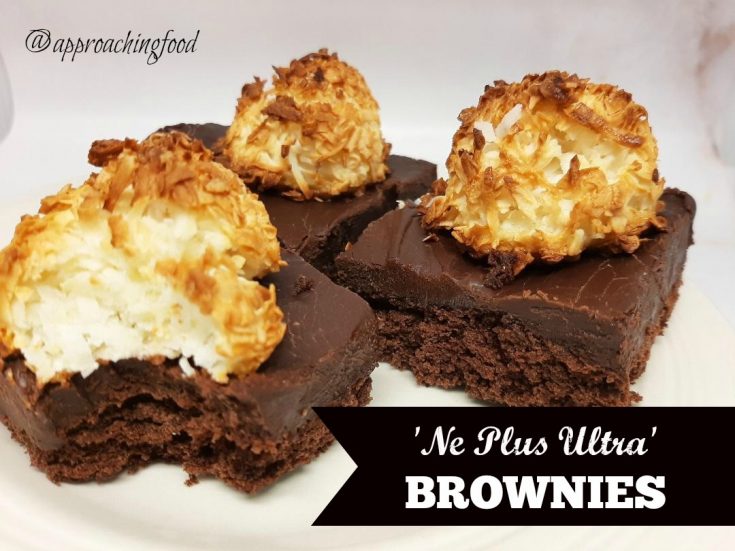 This over-the-top brownie is smothered in rich chocolate fudge and crowned with a coconut macaroon for a truly indulgent dessert experience!
Ingredients
½ c. sugar
2 eggs
1 tsp vanilla
½ c. butter melted
½ c. flour
1/3 c. cocoa powder
¼ tsp baking powder
¼ tsp salt
2 tbsp. milk
1/2 can condensed milk
1/2 tsp. vanilla extract
1 1/2 c. chocolate chips
2 tbsp. cream
1/4 tsp. vanilla extract
1 c. coconut
1 egg white
1/4 c. condensed milk
pinch salt
Instructions
1.     Mix first 9 ingredients together, and pour into greased 9x9 inch pan.
2.     Bake for 18 min in a 350 degree Fahrenheit oven. Remove, let cool, and you have the brownie base.
3.     While brownies are baking, we'll make the fudge. Mix the next 4 ingredients (condensed milk, vanilla extract, chocolate chips, and cream) in a pot.
4.     Stir the fudge ingredients together over a medium heat until fully melted and mixed.
5.     Pour the fudge mixture over the top of the brownies, still in the pan. Let cool.
6.     Lastly, we'll make the coconut macaroons: mix the last four ingredients together (egg white, coconut, condensed milk, and salt) and, using a cookie scoop, place in small scoops on a baking sheet.
7.     Bake in a 350 degree Fahrenheit oven, for 15 minutes.
8.     Remove, and press on top of brownies, in whatever pattern you like.
9.     Let cool completely, and cut into squares. Enjoy your decadent dessert! 
Nutrition Information:
Yield:
12
Serving Size:
1 square
Amount Per Serving:
Calories:

316
Total Fat:

19g
Saturated Fat:

12g
Trans Fat:

0g
Unsaturated Fat:

6g
Cholesterol:

57mg
Sodium:

182mg
Carbohydrates:

36g
Fiber:

3g
Sugar:

27g
Protein:

4g
You could even make these brownies gluten-free if you wanted to, using my gluten-free brownie recipe as a base. And while this delicious over-the-top brownie dessert isn't going to be winning any low-cal awards, at least you can tell yourself it's preservative-free! Just go on a brisk walk after eating one, and call it good! (Totes worth it, I promise!)
Next Post: Rosemary Cheddar Drop Biscuits! Bisquick be gone, this preservative-free biscuit recipe will surprise you with how easy and delicious it is!