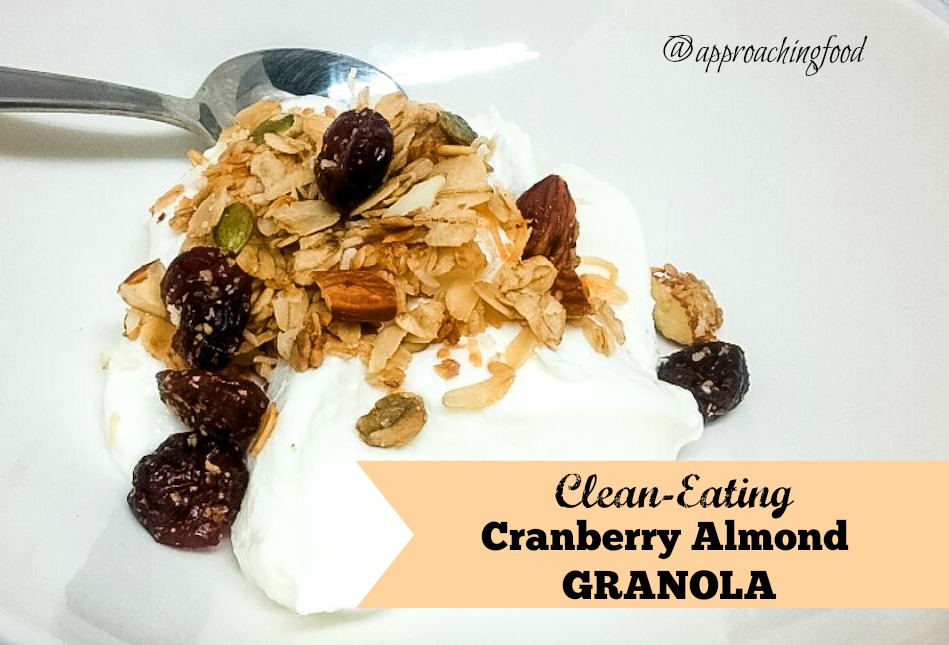 When I was a kid, I wanted to be a pioneer. I had read all of the Little House on the Prairie books, and wanted to be living on a prairie, making my own bread, sewing, wearing a bonnet, and so on. Today I make my own bread, I sew, and…I don't wear a bonnet.
Given that I wanted to be a pioneer, it's no surprise that I tend to make pretty wholesome food, decadent chocolate desserts notwithstanding. That said, I've left my pioneer day behind and these days, am showing more of a hippy-ish streak. Quoi, you ask? Well…I've mastered making my own yoghurt (mostly because I wanted to reduce the amount of sugar in my diet), and my latest love-love-love-it food: granola!!! Or better yet, mixing homemade yoghurt with homemade granola! And that's the hippy-ness I was talking about. (If I had Birkenstocks, I would be a granola-eating Birkenstock wearing stereotype. But I don't. Down with stereotypes, people!)
I've tried several recipes over the course of the last few months (chocolate almond granola, anyone?) and found that they all seem to suggest too long a roasting time in the oven. My chocolate almond granola burnt after too long in the oven (which I stubbornly ate, because chocolate). So when I came across a recipe on The Prudent Homemaker website that only called for a short period of roasting, I was intrigued!
Of course, me being me, I modified the recipe. I added some things in, I changed some amounts, I threw in flax seeds because I have too much flax in my kitchen, and then I ate the entire batch within a couple of days. By myself. Just me. (I have no regrets. Was fibre-licious!)
Speaking of pioneers and hippies, check out The Prudent Homemaker website. This woman has eight kids (!) and manages to homeschool all of them, while growing a hugggge amount of food (in the desert yet), cooking from scratch, AND doing it all on a minute budget. I think she is the closest thing to superwoman I will ever come across. What I really love about the site though, besides the encouraging vibe, is her focus on making life beautiful. I think everyone could use more beauty in their lives.
And granola, because this granola is da' BOMB! (It's really good, is what I'm saying.) Try it out, modify it to suit your tastes, serve it to others and wait for their stunned reaction when you casually mention that you made it yourself, and pop it into canning jars with pretty labels and give it away as gifts. Which is what I plan to do for Christmas. (Only 2 1/2 months away, people!) The pepitas and dried cranberries give a nice green and red theme to the granola, perfect for Christmas.
Clean-Eating Cranberry Almond Granola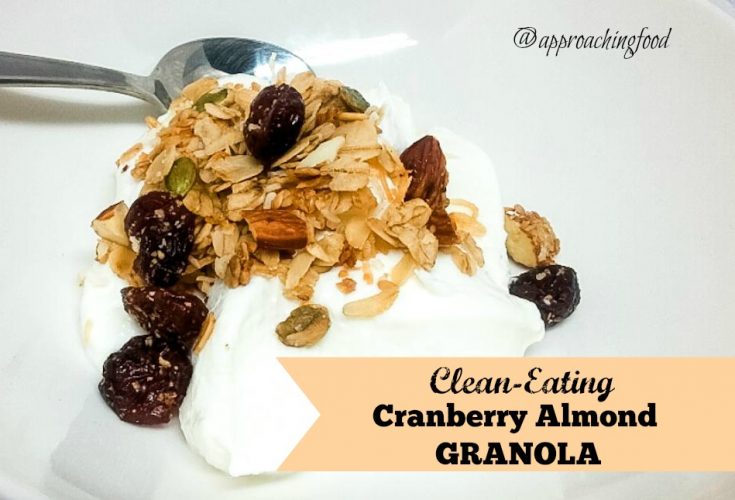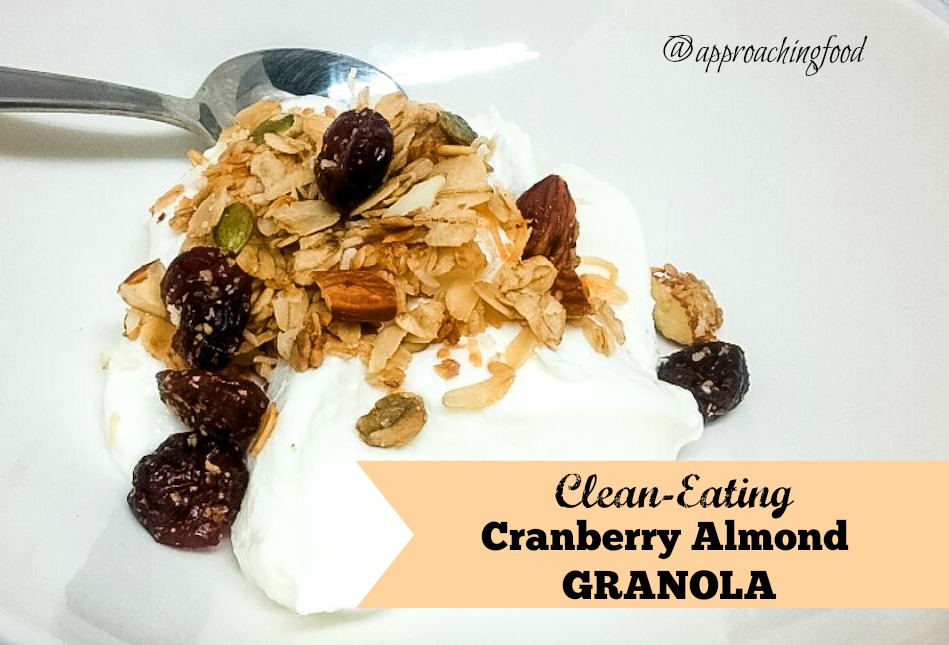 This nutrient and fibre-rich granola is healthy, but you won't care because it just tastes so delicious!
Ingredients
3 cups oats
1/4 tsp salt
1/3 cup vegetable oil
1/4 cup honey
2 tbsp. maple syrup
1 tbsp vanilla extract
1/2 cup chopped almonds
1 1/2 cup dried cranberries (or any dried fruit, but I like cranberries because of the slight chewiness. Also, I like lots of dried fruit. If you don't, decrease the amount of dried fruit that you add.)
1 c. shredded coconut
½ c. pepitas
¼ c. flax seeds
3 tbsp. flax meal
Instructions
Mix together everything but the dried fruit, and spread that mixture on a cookie sheet.
Bake in a 350 degree oven for about 15 minutes, or until golden and toasty looking. Make sure to stir the mixture once or twice during the roasting, in order to get an evenly toasted granola.
Once granola is cooked and cooled, stir in dried fruit. And enjoy!!! 
Nutrition Information:
Yield:
12
Serving Size:
1/2 c.
Amount Per Serving:
Calories:

340
Total Fat:

17g
Saturated Fat:

3g
Trans Fat:

0g
Unsaturated Fat:

12g
Cholesterol:

0mg
Sodium:

99mg
Carbohydrates:

45g
Fiber:

6g
Sugar:

26g
Protein:

6g
This Clean-Eating Cranberry Almond Granola recipe makes the equivalent of a box of (healthy) granola from the grocery store. Or, enough for me for a week. (Is delicious!) If you make this recipe, let me know how you modified it! I'd love to get some inspiration from my blog readers!
Next Post: Apple Pie, French-Style! Or…easy-peasy homemade yoghurt. Or apple custard! So many yummy things to blog about, what's a gal to do!