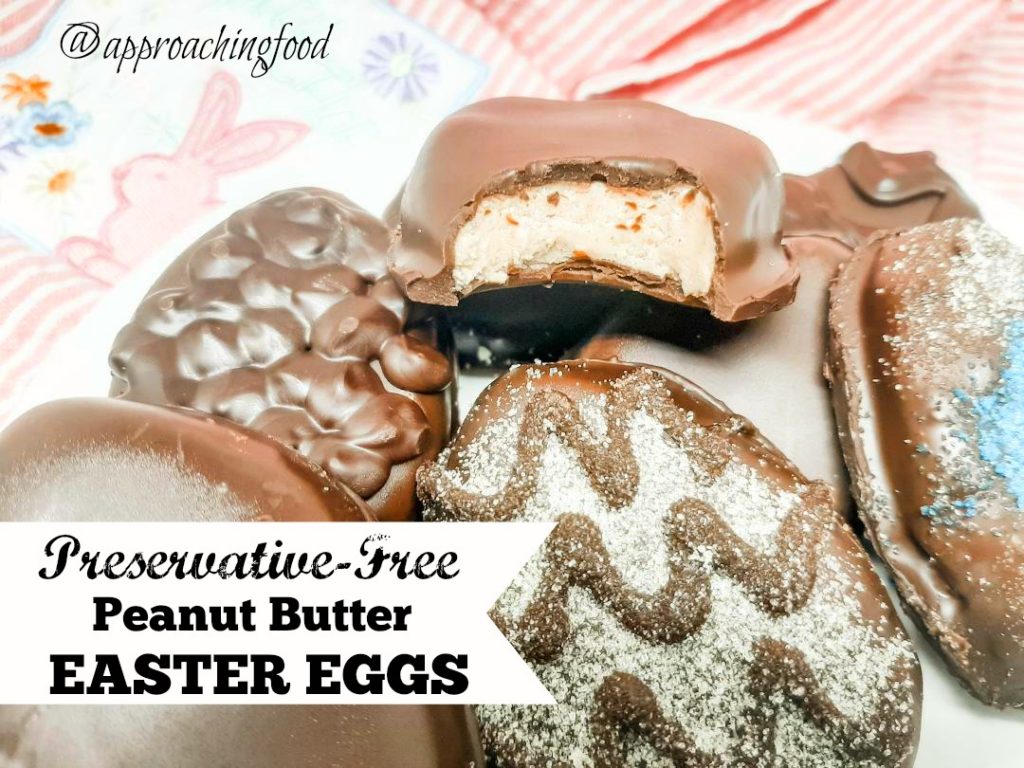 I've been peering in my pantry lately, thinking of how to whip up yummy treats from what I have at home. May I present: Preservative-Free Peanut Butter Easter Eggs! Due to social distancing measures, I've been trying to limit how often we go grocery shopping, and at the same time, I've been stress-baking and craving all things chocolate. But with Easter fast approaching, I wanted to create a classic treat that could be make with basic pantry supplies but was still utterly scrumptious. And these Preservative-Free Peanut Butter Easter Eggs are definitely scrumptious!
The only ingredients that you need are ones that you likely have at home already: peanut butter, icing sugar, vanilla extract, butter, oil, and chocolate chips. You could even leave out the vanilla extract if you don't have any, and use oil instead of butter, or butter instead of oil. In fact, you could probably distill the recipe down to its essence and just use peanut butter, icing sugar, and chocolate chips, although the consistency wouldn't be perfect. But hey, better imperfect chocolates than none, am I right?
This is a great activity for children to help you make. I even had my 17 month old help me stir the base, and although the mixture did go flying a bit with the energy of her stirring, it did keep her entertained! I'd say it's probably fun for a 3 year old or older to help with, and older kids could even make this on their own, as the only heat used is a microwave to melt the chocolate.
But enough blither-blather, let's get to making some chocolate treats!
Yield: 8 medium-sized eggs
Preservative-Free Peanut Butter Easter Eggs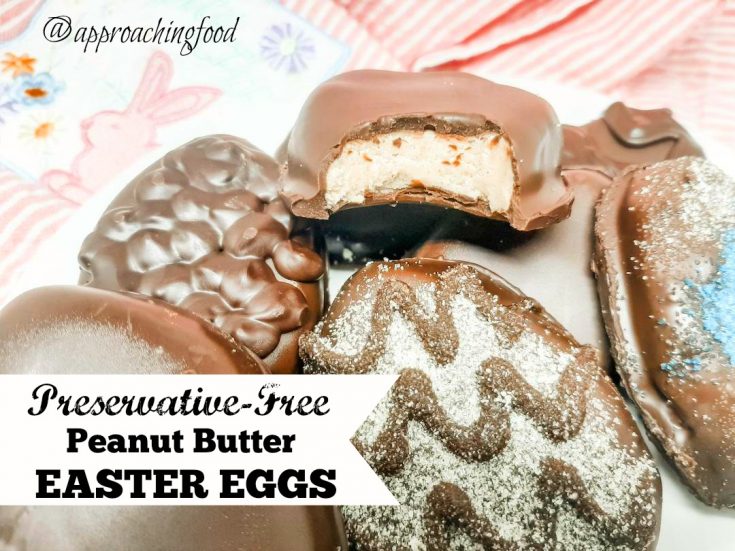 These super-easy, preservative-free peanut butter & chocolate treats can be whipped up from pantry staples! Older kids can make them independently, and everyone from toddlers to seniors will enjoy eating them!
Additional Time
30 minutes
Ingredients
1 c. peanut butter
1/2 c. icing sugar
1/2 tsp. vanilla extract
1 1/2 tbsp. butter
1 c. chocolate chips
1/2 tbsp. oil
Instructions
Melt butter and mix with peanut butter and icing sugar until a soft dough is formed.
Divide into 8 pieces, and shape each piece into an egg shape. Place on wax paper on a cookie tray and place in freezer for 15 minutes until thoroughly chilled.
Mix chocolate chips and oil in a small bowl, and melt in the microwave for 1.5 minutes, stirring every 30 seconds.
Using a fork, dip the peanut butter eggs in the melted chocolate. Let drip for a bit, and then place back on wax paper covered cookie tray.
Place cookie tray in freezer for 15 minutes or until chocolate coating is fully set. Enjoy!
Nutrition Information:
Yield:
8
Serving Size:
1 egg
Amount Per Serving:
Calories:

350
Total Fat:

25g
Saturated Fat:

8g
Trans Fat:

0g
Unsaturated Fat:

14g
Cholesterol:

6mg
Sodium:

173mg
Carbohydrates:

29g
Fiber:

3g
Sugar:

21g
Protein:

8g
Aren't these Preservative-Free Peanut Butter Easter Eggs super easy to make? Low-calorie they're not, but hey, right now the normalcy of making treats for family is comforting. The whole world is living through this stressful time together, and we all need to pull together and do our bit. So, I'm staying home with my family and not panic shopping. And sewing masks, and keeping my toddler entertained in a small condo while my husband works from home. We can get through this together. And hey, chocolate always helps!
Next Post: Probably a pillar post of Preservative-Free Side Dishes or Desserts, that can be pulled together easily. Unless you have a request?