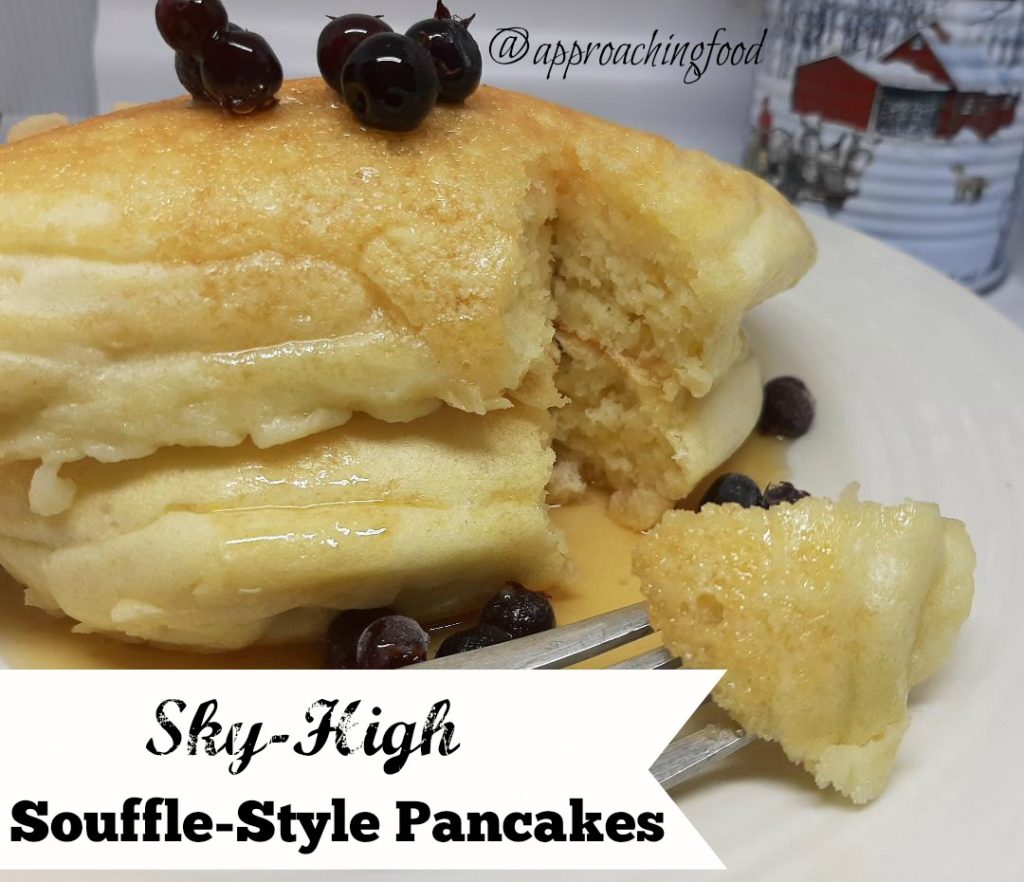 I've been seeing a lot of souffle pancakes on my instagram and fb feeds lately. Apparently it's a Japanese trend to serve and eat these massively tall jiggly pancakes that basically look like souffles. I love pancakes, and I love souffles, so I hacked my standard sour milk pancake recipe (preservative-free and just as easy a box mix!) to achieve the puffy souffle look for these Sky-High Souffle Style Pancakes!
The secret to turning regular pancakes into souffle pancakes? Separate the egg whites and egg yolks, and beat the egg whites with sugar until a meringue forms. That's right, the only thing you really need to do differently is to separate the eggs and super-beat the egg whites! And wham-a-lam, you've got fancy-pants souffle pancakes!
Ok, so you also stack the batter, and then add water to the frying pan to steam the pancakes, but those are just tiny touches. As long as you can beat an egg white, you can make these souffle pancakes!
Yield: 4 souffle pancakes
Sky-High Souffle-Style Pancakes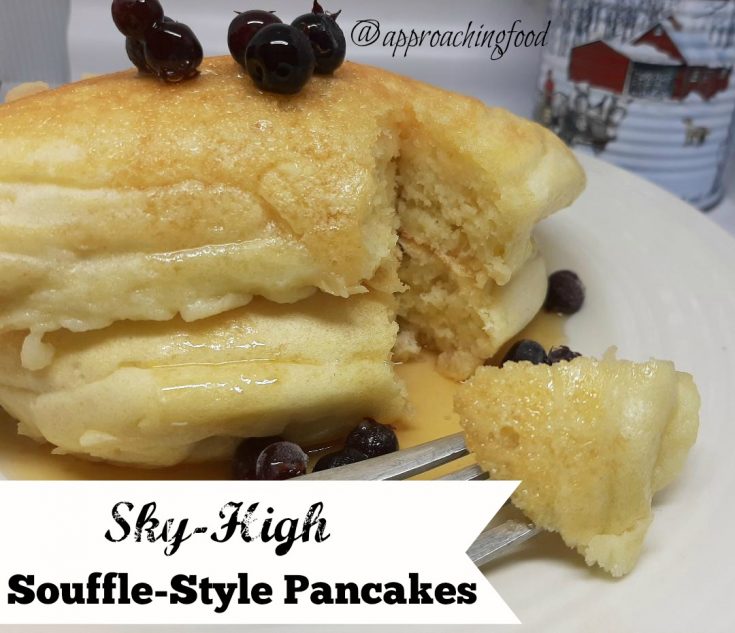 Basically a cross between a souffle and a pancake, this is a perfect weekend breakfast to share with your bestie or sweetie!
Ingredients
1 c. milk
1 tbsp. vinegar
1 c. flour
1 1/2 tsp. baking powder
2 eggs
2 tbsp. sugar
2 tbsp. oil
2 tbsp. butter
1/2 c. water
Instructions
Mix milk and vinegar and set aside to form sour milk (it will look chunky).
Separate eggs, and beat egg whites with sugar until stiff peaks form.
Mix sour milk and egg yolks.
Mix flour, baking powder, oil, and stir into sour milk mixture.
Fold in egg whites carefully, to preserve the air bubbles.
Melt butter in a frying pan over medium heat, and use half the batter to form 4 pancakes in the frying pan. Pour 1/4 c. water in the pan and cover with a lid for one minute.
Then add remaining batter on top of the pancakes, to make them double the height. Cover with lid, and cook for another minute.
Flip pancakes, add in remaining 1/4/ c. of water, and cook for another 2-3 minutes until golden on each side and cooked through.
Serve and enjoy!
Notes
You will want to use a frying pan with high sides to fry these pancakes, as you will need to be able to cover the pan with a lid without smushing the puffy pancakes.
To check if the pancakes are done inside, you can poke them with a bamboo skewer, or just insert a knife. The skewer or knife should be able to be removed without any batter sticking to them.
Nutrition Information:
Yield:
2
Serving Size:
2 pancakes
Amount Per Serving:
Calories:

639
Total Fat:

33g
Saturated Fat:

11g
Trans Fat:

1g
Unsaturated Fat:

20g
Cholesterol:

226mg
Sodium:

596mg
Carbohydrates:

68g
Fiber:

2g
Sugar:

13g
Protein:

17g
While this recipe only makes four souffle pancakes, don't underestimate the amount of pancake that it will produce! I made a batch and I had to halve it with my big-eater husband (and feed some of my half to my daughter) as they are VERY generous pancakes! Perfect for Sunday brunch with your bestie or sweetie!
These Sky-High Souffle-Style Pancakes are surprisingly easy to make, and impressive as all get out! You can customize the flavour to your own tastes; add in a bit of grated lemon or orange peel, fold in a bit of grated apple and a pinch of cinnamon…the flavour profiles are endless! If you make a batch and post to IG, tag me at @approachingfood — I'd love to see your creation!
Next Post: Maybe a re-working of my Vodka Pie Crust recipe, because you too can make preservative-free homemade pie crust. It's really not as intimidating as you might fear!