The DH brought home a grocery bag full of apples the other day. Apparently some Scouts or so had been selling them at his work. I knew right away what I wanted to make with them: my yummy Harvest Apple Crumble! I had done a test recipe for that when a few friends had come over for dinner a number of weeks prior, but I hadn't had a chance to document the process, so obviously I had to make another one. For documentation purposes, only. Not that I was craving yummy apple crumble. Uh uh.
Ok, so yes, I was craving it! It was soooo good! The first time I made it, the entire dish (a whole flan sized dish) was gone after dessert, and then this time when I made it, the whole thing was gone within 6 hours. Maybe less. And mostly I ate it. Because it's just soooo good! And healthy, too, because there's a whole cup of oats in it, and only 1/4 c. sugar plus a tbsp. molasses in the entire dish.
As with all my recipes, it's easy, because I don't like complicated stuff. The base is just apples tossed with a tablespoon of flour, and the crumble topping is my Ultimate Caramel Crumb Apple Pie topping, mixed with a cup of oats. Easy peasy! Want some apple-y deliciousness yourself?
Let's get peeling!
Yield: 8 servings
Healthy Harvest Apple Crumble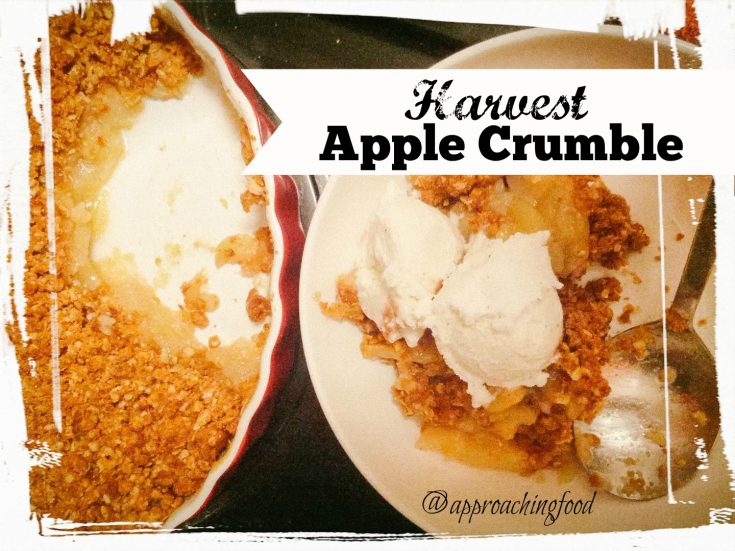 This delicious apple crumble is hiding a healthy secret: it's high in fibre and low in processed sugar. But who cares, because it's just so yummy! A great potluck dish or just great comfort food.
Ingredients
12 apples, peeled and sliced
1 tbsp. flour
1 c. flour
1/4 c. sugar mixed with 1 tbsp. molasses
1 tsp. cinnamon
1/4 tsp. salt
6 tbsp. chopped butter
1 c. oats
Instructions
Peel the apples and slice them.
Toss with 1 tbsp. flour. Place in a large flan dish.
Mix up the white sugar with the molasses. Dump in everything else (oats, cinnamon, salt, and butter) and mix until a soft crumb forms.
Sprinkle on top of the apples in the dish.
Bake in a 350 degree oven until top is golden and apples are soft, about 30 minutes, give or take. Enjoy!
Notes
I like to use McIntosh apples in my Apple Crumble, but you could use any apples, or even a mixture. Whatever you have at hand is great!
Nutrition Information:
Yield:
8
Serving Size:
1/8th
Amount Per Serving:
Calories:

350
Total Fat:

10g
Saturated Fat:

6g
Trans Fat:

0g
Unsaturated Fat:

3g
Cholesterol:

23mg
Sodium:

146mg
Carbohydrates:

66g
Fiber:

8g
Sugar:

37g
Protein:

4g
And there you are! Isn't that easy? This Healthy Harvest Apple Crumble is absolutely scrumptious (said with an uppercrust British accent), especially served with ice cream. At my dinner party, we ate it with amaretti gelato, and oh.my.gosh. I devoured it! If you make it, let me know in the comments how you serve it!
Next Post: Sweet Potato Gnocchi with Brown Butter and Sage. And the friendships you make in the non-profit sector.