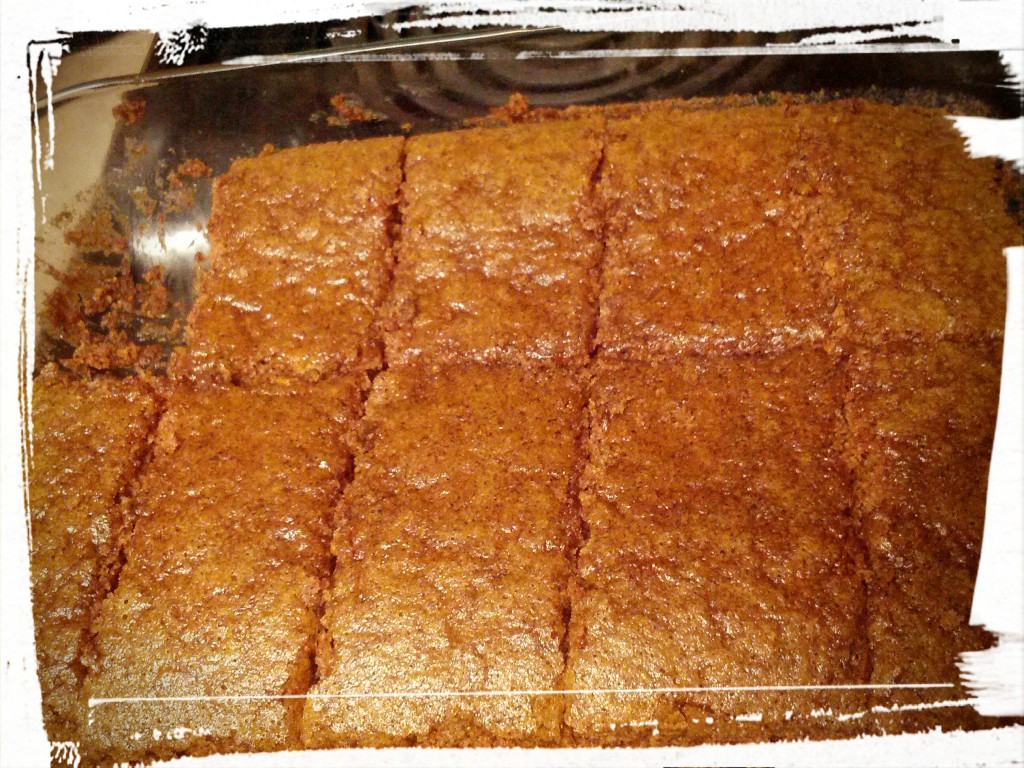 I made this spice cake for a bake sale recently, and it always conjures up a host of memories for me. When I was a kid, my mom would take my sisters and I for a nice, long walk through a park on Thanksgiving weekend, and she often packed this spice cake for a snack. So for me, I associate it with the fall and with the trees changing colours, with crisp air and hot chocolate.
I also associate it with an ex-boyfriend, because I baked it for him once. I had broken my arm in two places (roughly wrist and shoulder) and it had taken months to heal. While it was still in a cast (at least the wrist was. The shoulder was cast-free, and let me tell you, having a broken arm dangling from a broken arm? Is painful), I baked this cake single-handedly. Alright, my sister may have held the bowl for me, so that it didn't go spinning along the counter top. But I did the rest! Anyway, I packed it up and gave it to him during a winter walk around the neighbourhood, and I still remember the expression on his face as he tasted it. He liked it, of course!
And I think you'll like it too! It's easy to make, can be fancied up, or just packed as squares for a lunch box. And, it happens to be vegan, so if that's your thing, you're in luck! I tend to grease my cake pans with butter, but a mixture of vegetable shortening and flour would make sure the spice cake stayed vegan.  This comes from my mum's recipe box and I'm not entirely sure where she got the recipe from, as it's from decades ago, so if you know the original source, let me know so that I can credit it. I did change the spice and salt quantities slightly from the original recipe. And now, let's get our vegan on!
Yield: 10 squares
Vegan Thanksgiving Spice Cake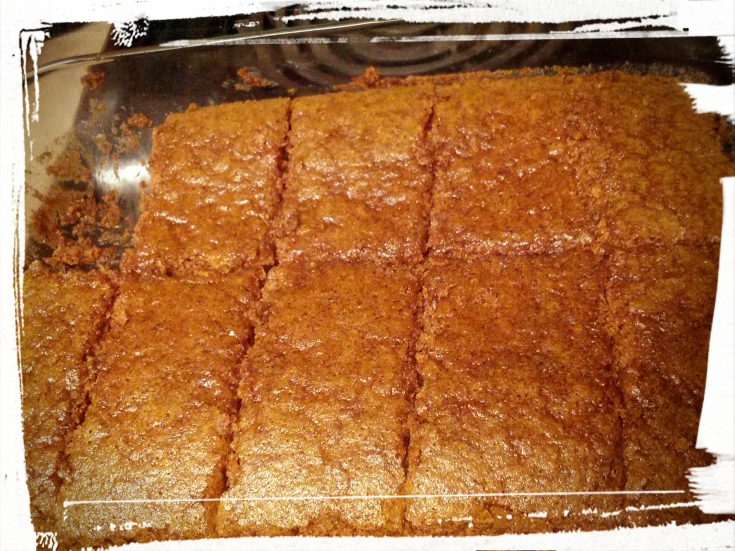 This quickie spice cake is vegan and bakes up the perfect fall snacking cake! Freezes well too, so perfect for lunch box prep!
Ingredients
1 1/2 c. flour
1 c. sugar
1 tsp. each: cinnamon, cloves, ginger, and nutmeg
1 1/2 tsp. baking soda
1/4 tsp. salt
1 tbsp. vinegar
1 c. water
1/4 c. oil
Instructions
Mix together wet ingredients and in a separate bowl, mix together dry ingredients.
Then add wet to dry and mix until just moistened (you'll see some foaming action as the vinegar hits the baking soda). Do not overbeat. There WILL be lumps, and that's ok!
Bake in a 350 degree oven for about 25 minutes or until a knife inserted in the centre comes out clean.
Nutrition Information:
Yield:
10 squares
Serving Size:
1
Amount Per Serving:
Calories:

198
Total Fat:

6g
Saturated Fat:

0g
Trans Fat:

0g
Unsaturated Fat:

5g
Cholesterol:

0mg
Sodium:

249mg
Carbohydrates:

35g
Fiber:

1g
Sugar:

20g
Protein:

2g
This will make a single cake layer, which is my favourite pan to bake it in, or a 9′ by 9′ square pan. You can also double it, which is what I did for the bake sale, and bake it in a lasagna pan. The spice cake freezes nicely, so you can make it ahead and pull it out for lunches as you need it.
If you want to fancy it up, you can bake it in a cake pan, and then serve it with a caramel or custard sauce. My mum just sprinkled icing sugar on it in a pretty pattern. If you make it, let me know your favourite way to serve it!
Next Post: Harvest Apple Crumble or Slow Cooker Apple Butter? Any preferences? Both are super easy.