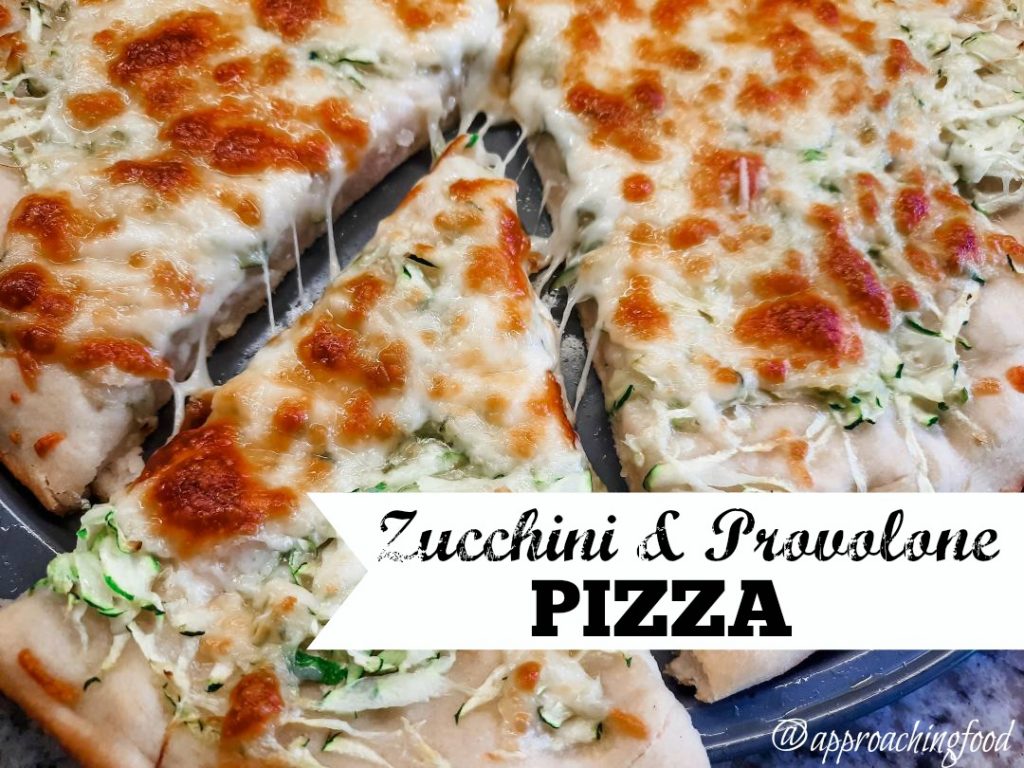 It's the time of year when home gardeners are overrun with zucchini and various other summer squash, which means it's time for a zucchini recipe! I personally will never run out of ways to cook zucchini, but then I've never successfully grown them in my balcony garden (they flower, I even hand pollinate, but they stubbornly refuse to propagate). But my new favourite way to cook zucchini is in pizza form! Pizza night will never be the same when you serve Zucchini & Provolone Pizza! Golden strands of melted provolone cheese, shredded zucchini so tender it melts into the homemade pizza crust…who wouldn't swoon over this pizza?
I was inspired by a Smitten Kitchen recipe, but once I read her recipe I decided to do my own thing, because yes, I am the Queen of Substitutions. (And if you want to get my freebie list of Kitchen Swaps and Hacks, just sign up via the email box on the right side of the home page!) I decided to use provolone because that's what I happened to have in the fridge, and it was an inspired choice! Mild enough that it doesn't overpower but with just enough tang to add some flavour, plus it browns a beautiful golden colour in the oven. The zucchini is shredded, as it's a finely flavoured vegetable to start with, and you quite frankly don't know that you're eating a veggie pizza — it just tastes like cheese pizza. And who wouldn't want to eat vegetables that taste like cheese pizza?
I use my homemade pizza dough crust (appropriately called The Easiest Pizza Dough in the History of Ever) as the base which means that this pizza can be whipped up, baked, and served in the amount of time it would take for a delivery pizza to arrive. Let's review: a pizza that is as quick as delivery, and makes zucchini taste like cheese pizza — I'd say that's a winner right there!
Want to make your own winning pizza? Let's!
Zucchini & Provolone Pizza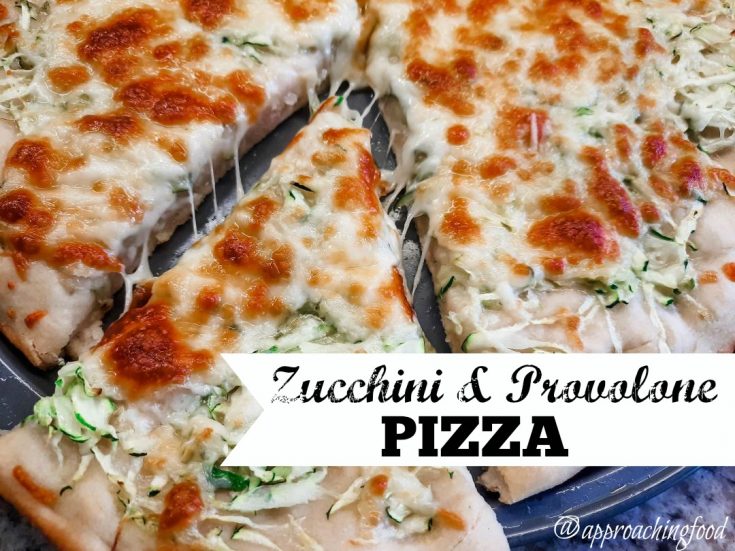 This tender-crusted, golden cheese-topped pizza is flecked with shredded zucchini, and is basically veggies in cheese pizza form. Plus, it's delish when eaten cold the next day!
Ingredients
1/2 large zucchini, grated
1 1/2 c. provolone cheese, grated
2 1/4 tsp (1 pkg) quick active dry yeast
1 c. warm water
2 1/2 c. flour
2 tbsp. oil
1 tsp. sugar
1 tsp. salt
Instructions
Dissolve yeast in warm water. Add rest of ingredients (except for the zucchini and cheese). Mix it up in a mixer (or mix by hand. I've done both).
Let sit for 5 minutes, while you prep your toppings (grate cheese and zucchini).
Oil a pizza tray and sprinkle a bit of cornmeal on it before you spread out the dough, for that super-fancy-pants look.
Sprinkle grated zucchini onto dough. Top with grated cheese.
Bake in a 425 degree oven until the crust is golden and the cheese melted (about 25 minutes).
Nutrition Information:
Yield:
8 slices
Serving Size:
1 slice
Amount Per Serving:
Calories:

261
Total Fat:

10g
Saturated Fat:

4g
Trans Fat:

0g
Unsaturated Fat:

5g
Cholesterol:

16mg
Sodium:

495mg
Carbohydrates:

32g
Fiber:

1g
Sugar:

1g
Protein:

10g
This tender-crusted, golden cheese-topped Zucchini & Provolone Pizza is the answer to all of your zucchini problems! Got a zucchini hater? Serve this pizza! Whether you've got too many zucchini or need to buy from the store, this pizza will be a hit on the dinner plate. Plus, leftovers are tasty the next day too!
Next Post: Probably something sweet because this gal has sugar cravings. At least if I make my own sweets they'll be preservative-free, so…healthy, right? RIGHT?